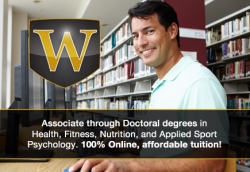 Rancho Santa Margarita, CA, September 14, 2012 --(
PR.com
)-- Jennifer L. Gladysz-Brown, a long-time educator and administrator in the Orange County area, was recently named adjunct professor of language arts for Wexford University. Wexford University offers a variety of online associates through doctoral degrees in health, fitness, exercise and nutrition.
Gladysz-Brown is currently an assistant principal for two junior high schools in Orange County and has previously taught English, language arts, intensive reading, reading comprehension, composition, writing, English language development, photojournalism and other courses at both the junior high and high school level. In addition, she has worked in both alternative education and online education as a means of reaching more students with innovative and flexible approaches. Gladysz-Brown also runs a private tutoring program for both enrichment and students with special needs. She previously served as adjunct professor for Brandman/Chapman University in the teacher credentialing program.
"With Wexford's focus on reaching out to a growing number of international students, we were thrilled to find someone with Jennifer's background in language arts and cross-cultural teaching, as well as alternative and online education," said Jack Bauerle, Chancellor of Wexford University. "We are delighted that she's joined our growing staff at Wexford."
Gladysz-Brown earned her bachelor's degree in Liberal Studies with a minor in Communications and her two master's degrees, one in Cross-Cultural Teaching and one as an Education Reading Specialty, at National University. She also earned a master's in Educational Administration at Concordia University. In addition to working as a teacher and administrator, she has served as a teacher coach, a lesson design specialist, department chair and technology trainer.
Wexford University offers degree programs including an associate of arts degree in Fitness Training, a bachelor of science degree in Health and Fitness, a master of science degree in Nutrition and Exercise, a master of arts in Applied Sports Psychology and a doctorate degree in Applied Sports Psychology.
Wexford University is dedicated to providing world-class education through cutting-edge technology, offering direct application degree programs in an accelerated format with 100 percent online learning to save time and money. Programs include an associate of arts degree in Fitness Training, bachelor's degree in Health and Fitness, master's degree in Nutrition and Exercise as well as master's degree and doctorate degree in Applied Sport Psychology. Wexford University is the higher education division of NESTA (National Exercise & Sports Trainers Association). For more information, please visit
http://wexford.edu/
.