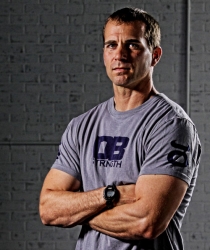 Rancho Santa Margarita, CA, June 15, 2012 --(
PR.com
)-- Well-known for his toughness and smarts in serving as assistant coach for Team Cruz on FX's "The Ultimate Fighter Live," world-renowned mixed martial arts and strength coach Doug Balzarini has joined the faculty of the Mixed Martial Arts Conditioning Association (MMACA). In his new role, Balzarini will provide weekly video training for members and contribute to the organization's ongoing curriculum.
In addition to his new faculty position with the MMACA, Balzarini is the owner of DB Strength, the strength coach for the Alliance MMA Fight Team at the Alliance Training Center in Chula Vista, Calif., and he previously served as operations director, personal trainer and strength coach at Fitness Quest 10 in San Diego. In his role on the successful 15th season of "The Ultimate Fighter Live," Balzaraini helped train fighters for the season's ultimate competition.

"If you've watched even five minutes of 'The Ultimate Fighter Live,' you know what a true expert Doug is, just one of the reasons we're so thrilled that he's joined the MMACA faculty," said John Spencer Ellis, founder of the Mixed Martial Arts Conditioning Association. "A true mixed martial arts fitness pro, Doug has helped spur the growth of mixed martial arts strength and conditioning, and his weekly video training will be cutting-edge, must-see viewing for our members."
Balzarini has used his Certified Mixed Martial Arts Conditioning Coach training from the MMACA to train several fighters and athletes.
The MMACA certification program is designed for personal trainers, coaches, martial artists and MMA participants interested in acquiring both athletic and business skills required for successful mixed martial arts coaching. In addition to the business of MMA training, the Certified MMA Conditioning Coach program focuses on combat drills, plyometrics, mental training, TRX, Kettlebells, aerobic and anaerobic conditioning, sports nutrition, sport psychology, dynamic flexibility and more.

About MMACA
The Mixed Martial Arts Conditioning Association (MMACA) was developed to bridge the gap between sports conditioning science, MMA training methods and direct application from the ring, octagon, mat or cage. The MMA Conditioning Association is the MMA certification division of the National Exercise & Sports Trainers Association (NESTA), a leader in innovative solutions for fitness, nutrition and wellness professionals, as well as club owners since 1992. The MMACA and its staff of educators, exercise physiologists, dietitians, biomechanists, strength coaches, sports psychologists, physical therapists, massage therapists, kinesiologists and business professionals have joined with the world's top boxers, wrestlers, BJJ fighters, Muay Thai fighters, American kickboxers, MMA fighters and coaches to develop a comprehensive MMA conditioning program. For more information about the program, please visit
http://www.mmaca.net