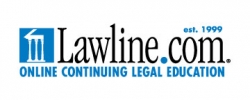 New York, NY, May 17, 2012 --(
PR.com
)-- Lawline.com has once again been recognized for its innovative and unique work atmosphere. The company is pleased to announce its reception as one of the top twelve places to work in New York State by the New York State Society for Human Resources. The award follows Lawline.com's previous recognition in 2010, where it was named by Crain's magazine as the #21 best place to work in New York City.
Lawline.com runs on a series of company core values which resonate in each of its employees, faculty members and customers. The recent award, which evaluates and ranks the best places of employment in the state based on an employee survey and informational questionnaire, is a reflection of what Lawline.com knows to be true: work should be meaningful and fun.
Lawline.com CEO David Schnurman (@davidschnurman) commented, "We pride ourselves on our core values," says Lawline.com CEO. "It drives us as a company to innovate, create better results every day and have fun in the process."
The company's core values - actively learning, seeking creative solutions, taking time to help others, exuding optimism and driven to find a better way - continue to differentiate it as one of the most creative and culture-oriented workplaces in New York.
For more information on the Lawline.com's company culture, please visit www.careers.lawline.com
About Lawline.com
Headquartered in the financial district of downtown Manhattan, Lawline.com is a national Online Continuing Legal Education (CLE) provider. CLE is mandatory in most states for attorneys and Lawline.com currently provides courses in 44 states. With millions of courses viewed, Lawline.com's 35 employees cater to attorneys, accountants and other professionals across the country.
Lawline.com was recently named #21 Best Places to Work in New York City by Crain's and a finalist in Best Practices in Customer Service and Sales and Marketing by New York Enterprise Report. In 2011 Lawline.com received an award for Human Resources and Leadership by the New York Enterprise Report. Our success has been featured in The Wall Street Journal, Entrepreneur, & Forbes.com.
www.lawline.com
www.twitter.com/lawline
www.facebook.com/lawlinecle