American Hero T-Shirt Announces Limited Edition Sale
Beginning May 21 at 8:00am CST, American Hero T-Shirt is running a 7-day sale for a limited edition Live from Your Patriotic Heart patriotic apparel shirt.
Wichita, KS, May 21, 2012 --(
PR.com
)-- American Hero T-Shirt has been burning up the Internet with its memorial and patriotic apparel designs since the launch of its website. The company is both proud and happy to announce the launch of a very limited edition t-shirt. The Live from Your Patriotic Heart will be available only from May 21 to May 28.
What makes this sale so special is the fact that this particular design is not available yet and will be retired at the conclusion of the sale. With patriotic apparel designs becoming more popular, American Hero wanted a design that would continue to promote the Fallen Warrior Foundation, but also be unique, hence retiring the design after the seven-day run.
For those unfamiliar with the Fallen Warrior Foundation, it was established to support the families of fallen military personnel on many different fronts. The foundation provides both emotional and financial support for families, helping in areas such as education and financial counseling. For its part, American Hero donates $5 from every shirt sale directly to the Fallen Warrior Foundation.
Mark your calendars now because once May 28 has passed, this particular design will no longer be available. Fans of these patriotic t-shirts are already waiting in anticipation based on the designs the company had previously released. Based on its title, we can only imagine the emotions the new design will stir.
About: AmericanHeroTShirt.com is a patriotic apparel website dedicated to supporting the families of soldiers injured or who have lost their lives in battle defending our country. A portion of every sale is donated to the Fallen Warrior Foundation. AmericanHeroTShirt.com offers both memorial and patriotic designs.
Contact
American Hero T Shirt
Jake Hellner
913-205-0296
http://americanherotshirt.com

Contact
Multimedia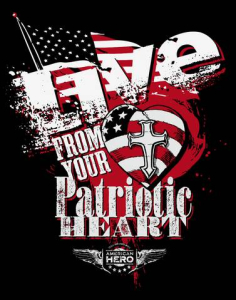 This is our limited-edition Live From Your Patriotic Heart patriotic apparel t shirt only available on americanherotshirt.com from May 21-28.