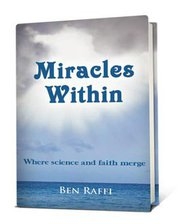 Los Angeles, CA, July 16, 2012 --(
PR.com
)-- According to several studies done by Mt. Sinai School of medicine, Harvard University, California Pacific Medical Center and USC School of Medicine SF, on Distant Healing Intention and Mind-Body connection or non local mind, the researchers found out that "in majority of cases people and animals had profound improvements and changes physically, mentally and emotionally in a very short period of time."
If we open out minds to new possibilities we will be amazed at what we can achieve in a short time, most importantly learning new ways to improve and heal ourselves. In order to understand how this system works Ben Raffi author of "Miracles Within," "The cellular Programming Miracle" eBook and the upcoming eBook "Who Am I," is presenting an amazing system of transformation and healing of mind, body and soul, in a series of free tele- seminars /workshops and free mini sessions.
· Two experiential transformation and healing tele-seminars by Ben Raffi on July 19th 7 pm and July 23rd 11 am PST.
· An onsite free workshop Los Angeles Ca, July 24th 7 pm. by Ben Raffi and Valerie Wade, Arch angel reader.
· Free remote mini trial sessions, for a limited time only, please request appointment by email.
· To register please sign up at
www.benraffi.com
To order the books or self improvement CDs through self hypnosis you can go to
www.miracleswithin.com
or www.amazon.com.
Ben Raffi is an author, clinical Hypnotherapist, Certified Energy & Angel medicine healer, EFT, NLP practitioner, Reconnective healer, Paranic healer, Life and spiritual coach, past life therapist & A unique Taoist mediation teacher and facilitator.