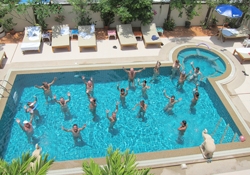 Bangkok, Thailand, May 22, 2012 --(
PR.com
)-- Naturist Association of Thailand sponsors their first International Naturist Conference.
Naturists from 12 nations participated in the celebration of naturism on May 12th and the effort towards a common goal of building naturism in Thailand and Southeast Asia, in addition to enjoying the warm welcome and ambiance of Chan Resort, Thailand's foremost naturist resort. Chan Resort was recently listed as one of the world's top ten naturist resorts by www.TravelersDigest.com, written by Melanie Votaw renowned travel writer and author of 12 books and Journalist for international and regional Magazines & Newspapers.
A warm welcome was given by Chan Konim of Chan Resort to all attendees, opening remarks by Greg Moeller of Naturist Association Thailand Co., Ltd. (NAT) sponsors of the conference and a presentation on the history and growth of naturism in Thailand and the bright future it forecasts was given by Bruce Kendall. Following the speakers, naturist themed videos stressing body acceptance and living the naturist life were shown, including some television commercials using naturism as humor.
An honored guest and speaker was Nico Van Eeden, President of www.SunTrekkers.co.za and past President of the South African Naturist Federation (SANFED), and his wife Rika. Mr. Van Eeden presented Mr. Kendall and Mr. Chan with a token of friendship.
Nearly 30 people from 12 different countries attended, with Thai making up nearly half of the total. Countries in attendance were Denmark, Thailand, Britain, United States, South Africa, India, Indonesia, Australia, New Zealand, Thailand, Pakistan, and Bangladesh. Though this does not sound like much, it is when you take into consideration that with 330 million people in the USA, the American Association of Nude Recreation (AANR) conventions attract around 700 people, and the Australian Naturist Federation (ANF) Conventions have attracted approximately 70 people in recent years.
A Thai buffet dinner with Karaoke entertainment was enjoyed by all. Mr. Greger played Master of Ceremony by getting all guests to sing a song in their native language. Even Mr. Chan joined in with some traditional Thai songs.
The next day conference attendees were provided a naturist cruise to a remote island where they enjoyed the sun, sand, and snorkeling in crystal clear waters. A Thai buffet lunch was provided by the cook of the boat to the delight of all.
Thailand is situated perfectly for naturist tourism with its temperate weather, and its geographic location. When it is winter in Europe it is the perfect time to visit Thailand and when it is winter south of the equator in South Africa and Australia again it is the perfect time. This will help even out seasonal rates and provide a regular flow of customers. Naturists will also turn out one of the biggest benefits to Thailand tourism, as long as other countries don't beat them to it. There is already fledging groups in Hong Kong, India and Singapore.
Naturist Association Thailand Co., Ltd.
4/41-42 Moo 3, Thanyakarn, Maiyalap
Ramintra Soi 14, Bangkok 10230, Thailand
Phone: +66 (0)81 629 0117
info@ThailandNaturist.com