Best Bagless Vacuum List Published by Vacuum Cleaner Advisor
The latest Best Bagless Vacuum list has been released by Vacuum Cleaner Advisor. It includes 10 models from 7 different manufacturers and covers uprights, canisters and stick vacs.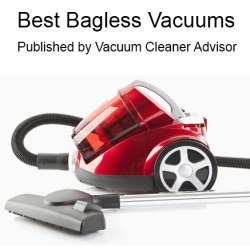 Seattle, WA, May 31, 2012 --(
PR.com
)-- Vacuum Cleaner Advisor has just published its Best Bagless Vacuum list for 2012. The list, which contains a total of 10 vacuum cleaners, is designed to help consumers make a better buying decision. Bagless vacuum cleaners are a very popular choice today and many buyers feel that they are more economical and environmentally friendly than their bagged counterparts.
The latest list includes 4 uprights, 2 canisters and 4 stick vacs. Manufacturers represented are Euro-Pro, Dyson, Bissell, LG, Electrolux, Hoover and Eureka. Machines were chosen based on their length of warranty, consumer ratings and features.
The top bagless uprights are the Shark Navigator Lift Away Pro, the Bissell Healthy Home 16N5, the Dyson DC25 Animal and the Dyson DC41 Animal. The Lift Away Pro gets excellent ratings from owners. It is also lightweight, effective on both carpet and bare floors, and covered by a lengthy 5-year warranty. At about the same price point, the Bissell Healthy Home 16N5 also carries a 5-year warranty. In addition, the 16N5 sports HEPA filtration, 7 height settings and a long extension hose. Dyson products need no introduction, but some of their uprights are better than others. The DC25 Animal and the DC41 Animal are excellent examples of top-of-the-line bagless vacuum cleaners. Both excel in terms of cleaning ability, consumer ratings and features.
Although many good canister vacuums are bagged, there are a few outstanding choices in the bagless category. Most notable are the LG Kompressor LcV900B and the Electrolux EL4300A. The LcV900B possesses LG's unique Kompressor technology that compacts the debris inside the dust canister. This allows the canister to hold much more than usual, and it also makes it easier to empty. In addition, this LG canister model has a motor driven brushbar and suction control. While the LcV900B is a bit heavy, the Electrolux EL4300A is very lightweight, logging it at only 12.5 lbs. The EL4300A features a retractable power cord, variable suction controls and excellent pet hair removal capability.
Several stick vac models round out the list of Best Bagless Vacuums. These include the corded Hoover SH20030 and the cordless Shark Freestyle, Hoover Linx and Eureka Quick Up 96JZ. These vacuums all get very good ratings from owners and are capable cleaning machines. They range in price from around $50 to $150.
Read more about these highly rated
bagless vacuum cleaners
at vacuum-cleaner-advisor.com. Vacuum Cleaner Advisor has been publishing consumer advice since 2007. The site reviews and rates all types of vacuums and provides buying guides, videos, owner insights, vacuum deals and much more.
Contact
Vacuum Cleaner Advisor
Emily Choulasco
206-196-1762
vacuum-cleaner-advisor.com

Contact