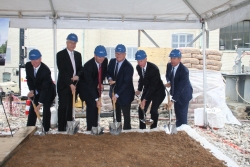 Fairfax, VA, May 25, 2012 --(
PR.com
)-- Dirt is moving at the site of the new 1700 New York Avenue, NW office building in Washington, D.C. Balfour Beatty Construction and Carr Properties broke ground on the property last month. Balfour Beatty was selected by Carr Properties to provide both preconstruction and construction services for the new building, which is located less than two blocks from the White House and directly adjacent to the world-renowned Corcoran Gallery of Art. The 1700 New York Avenue, NW, project was designed by SmithGroup of Washington, D.C.
A 122,000-square-foot, trophy-quality office with striking views of the White House and other Washington, D.C. landmarks, the new eight-story all-glass building will be constructed such that the top three levels will cantilever to the south over the Corcoran Gallery roof. With a goal of achieving LEED Gold certification, the building will incorporate regional and recycled materials, a green roof system to collect rainwater, energy-efficient MEP systems, daylighting, and views.
In addition to its Class A office space, the 1700 New York Avenue, NW, building will include rooftop congregating areas and a fitness center. The building's foundation will be spread footings with concrete foundation walls for the three below-grade levels and post-tensioned concrete slabs above-grade, as well as a 15-foot cantilever along the building's north and south sides.
"The cantilever design enables a column-free perimeter area," said Steve Smithgall, division president for Balfour Beatty Construction in Washington. "Future tenants will have amazing, unobstructed views of the White House and the Washington Monument –views rare in this city."
Balfour Beatty Construction has been working closely with Carr and SmithGroup to provide preconstruction services since June 2011. Completing in the summer of 2013, the new building's two levels of below-grade parking and one level of below-grade office space will require underpinning of the adjacent Corcoran Gallery building. The Balfour Beatty team is carefully planning selective demolition, utility relocations, and new construction activity to ensure minimal disruption to the Corcoran Gallery's operations.
1700 New York Avenue, NW, is one of 11 projects totaling more than $1 billion in construction value on which Balfour Beatty Construction and SmithGroup have worked together.
About Balfour Beatty Construction
A leader in the U.S. commercial construction industry, Balfour Beatty Construction provides general contracting, at-risk construction management, and design-build services through more than 2,400 professionals nationwide. The company has been cited as a Top 10 Green Builder by Engineering-News Record for the past two years, and as one of the 100 Best Companies to Work For® by FORTUNE magazine for three years in a row. The company is part of London-based Balfour Beatty plc, a global leader in professional services, construction services, support services, and infrastructure investment, with more than $18 billion in annual revenues. To learn more about the company and its subsidiary—Howard S. Wright—visit balfourbeattyus.com.