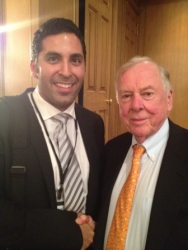 Commerce, CA, May 26, 2012 --(
PR.com
)-- Deco Lighting, a leading manufacturer of latest technology, energy saving commercial lighting, participated in the 2012 Global Conference at the Beverly Hilton, Los Angeles, April 29 – May 2, 2012. One of the world's leading economic think tanks, the Milken Institute converts research into real world results. Each spring, the Global Conference brings many of the world's most powerful people to Los Angeles to address the biggest challenges of our time in business, health, government and education. The major focus in this year's conference is building a more sustainable energy future.
Deco Lighting contributes its expertise to make an impact in the global effort to improve energy efficiency, reduce costs, reduce carbon emissions, and improve the environment with better lighting. "As a leading innovator in the lighting industry, we are committed to advancing lighting solutions that save energy and contribute to a cleaner environment," said Ben Peterson, Vice President of Corporate Development for Deco Lighting and a participant in the Global Conference. Through conferences, trade events and tutorial seminars, Deco Lighting strives to educate decision makers on the latest technology lighting fixtures, light sources and controls. Key components in today's rapidly evolving commercial lighting world include the transition to solid state light sources, use of Induction and Plasma sources for high lumen applications, and intelligent lighting controls.
About the Milken Institute Global Conference
The Milken Institute stands for great ideas and effective action. Their mission is to improve lives around the world by advancing innovative economic and policy solutions that create jobs, improve health, and increase access to capital. A nonprofit, nonpartisan think tank, the Milken Institute believes in the importance of human capital and in the power of capital markets to solve urgent social and economic challenges and improve lives. Now in its 15th year, the Global Conference annually attracts 3,000 leaders in business, finance, government, public policy, academia, philanthropy, law, science, news media and more. These individuals represent some of the world's top firms, organizations, universities and governments. The Milken Institute brings together influential decision-makers who put great ideas to work in the marketplace and around the world. People with the vision and resources to make a significant impact. A few of the prominent speakers at the Conference included former President Bill Clinton, entrepreneur T. Boone Pickens, California Governor Jerry Brown, Montana Governor Brian Schweitzer, Alan Schwartz – Chairman of Guggenheim, former Chicago Mayor Richard Daley, Eric Spiegel – President of Siemens, Randall Stephenson – CEO of AT&T, Sumner Redstone – Chairman of Viacom and CBS, Robert Pittman – founder of MTV, Mel Karmazin – CEO of Sirius Radio, Steven Hess – President of Pratt & Whitney, and many others. For more information: www.globalconference.org
About Deco Lighting
Deco Lighting is leading the lighting industry with the most innovative green technology commercial lighting products and energy solutions. Recognized by industry associations for innovation, Deco Lighting is winning many new awards and patents for its revolutionary lighting fixtures and control designs. Specifiers knowledgeable in the latest technologies have determined green lighting solutions will immediately save on utility energy costs, save substantially on long term maintenance costs and speed the conversion to "go green" to improve the environment. Today major universities, commercial buildings, municipalities, hospitals, military bases, transportation and shopping centers are selecting Deco Lighting to retrofit and upgrade their inefficient lighting systems to green energy systems for savings up to 85%. As more lighting specifiers, engineers, architects, city planners, facility managers and building owners become more knowledgeable of the latest technology lighting solutions, their smart decisions will accelerate the financial, environmental and social benefits of green energy.
Going green is a rapidly growing trend for companies in all sectors – technology, financial services, retail and manufacturing. By creating and embracing energy efficient green products and services, millions of dollars are saved and carbon emissions are reduced for the benefit of local communities and the global environment. Adapting green energy has stimulated tremendous growth in new technologies, new venture capital investment, new start-up companies and new green jobs.
Deco Lighting is a leading manufacturer changing the world of lighting with the latest green technology, energy saving lighting and controls. Deco Lighting products are proven in commercial, municipal, military and government installations throughout the U.S. and worldwide. Deco Lighting's extensive product line includes architectural and commercial fluorescent, Induction, HID, LED, Solar, emergency fixtures and sensors.For more information visit www.getdeco.com, e-mail: info@getdeco.com, phone 310-366-6866, fax 310-366-6855