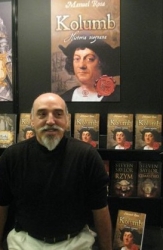 Lisbon, Portugal, May 30, 2012 --(
PR.com
)-- Lately some have claimed that Christopher Columbus was a Jew. History books say that Christopher Columbus was a poor Italian wool-weaver, of Genoese birth. But the Christopher Columbus controversy has finally reached a tipping point with this month's publication of "Kolumb. Historia nieznana" (REBIS), [Columbus. Unknown History], the latest book by Manuel Rosa.
The new Polish biography by the Portuguese-American historian, claims that Christopher Columbus was the false identity of a Portuguese-born Prince named Segismundo Henriques, son of Ladsilau III, King of Poland who went into self-exile after his shameful defeat by the Ottomans in Varna, November 1444.
Providing a fresh look at the 15th and 16th Century documentation, Kolumb. Historia nieznana contradicts the longstanding belief that Christopher Columbus was a Genoese peasant and shows the Genoese account to be an inaccurate reporting of the facts often based on invention and even on forged and falsified documentation.
During Rosa's lecture at the Portuguese Academy of History, May 16, there was standing room only as Portuguese historians and other academics gathered to listen to the latest results of Rosa's investigation. The heated debate focused on the long-held acceptance that the Genoese Cristoforo Colombo, a peasant weaver, married the noble Filipa Moniz in Portugal 15 years before his monumental voyage, an impossibility in Medieval Times for peasants to marry nobles, and facing that impossibility, the man who discovered America, known as Cristóbal Colón, had to be a nobleman by birth just like his Portuguese wife.
Among other facts presented in Mr. Rosa's lecture, were that Columbus did not know Italian seeing that all his letters, even to Italians, are in a Portuguese-flavored Spanish, that Columbus wrote on March 1493 that Portugal was his "homeland" and that a Spanish court document from 1487 describes Columbus as Portuguese. So convincing was Rosa's presentation that the President of the Portuguese Academy of History, Professor Maria Manuela Mendonça, declared in an interview on May 19 to the Diario do Alentejo newspaper, that, "Columbus was Portuguese. If he was not born in Portugal, then he had to have arrived in Portugal at a very, very young age" [to acquire the Portuguese language as his mother tongue.]
This declaration contradicts the accepted history, which claims that the Genoese Christopher Columbus arrived in Portugal in 1476 at age 25, hiding his peasant identity. Instead, claims Rosa, Cristóbal Colón was the spy-name of Prince Segismundo Henriques.
More and more historians now are beginning to accept that the history was incorrect and that the man we came to call Christopher Columbus is a clear case of mistaken identity: "Another nutty conspiracy theory! That's what I first supposed … I now believe that Columbus is guilty of a huge fraud carried out over two decades," wrote professor James T. McDonough, Jr., who taught at St. Joseph's University for 31 years.
Rosa realized early on in his investigation that history had mixed up facts and personalities and spent half his life weeding through the evidence. When asked by a Polish journalist to describe briefly the facts that support his new identity of Columbus, Rosa replied, "I always find it amusing when I am asked to 'describe briefly' 21 years of research which cannot be summed up into a sound bite outside the context of the evidence that I have collected and which is carefully presented in the 400 pages of my book. Please read the book and it will all become clear."
Mr. Rosa, who is currently working with actor Christopher Michael Siepietowski to turn his book into a movie script exposing the newly discovered identity of Christopher Columbus, further said, "there's plenty of evidence to support my theory and my next project will be to try to back this up indisputably with DNA evidence." He hopes to do DNA tests with the help of the Poles, once Poles read the book and become convinced that Columbus had Polish blood.