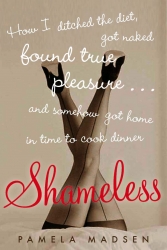 New York, NY, June 07, 2012 --(
PR.com
)-- If there's anyone who understands submission and power, it's
Pamela Madsen
, a chubby, middle-aged, professional woman who blew the lid off the hidden truth about female sexuality and desire with her fearless memoir, Shameless: How I Ditched The Diet, Got Naked, Found True Pleasure and Somehow Got Home in Time to Cook Dinner.
Before the fictional 50 Shades of Grey and a recent Newsweek cover made submission and spanking the subject of national conversation, Madsen-- a midlife woman in a long-term monogamous marriage-- came out about her real life adventure into the subterranean world of sacred sexuality and bondage.
Just last week,
The Wall Street Journal featured Pamela's story in Elizabeth Bernstein's much-read sex and relationship column:
"Ms. Madsen started to feel unhappy and unfulfilled (in her 30 year marriage). The couple rarely had sex—and when they did, it was "efficient," Ms. Madsen says. Her husband, 54, says, "We knew exactly what was going to happen every time we had sex."
"Some of Ms. Madsen's friends were having extramarital affairs and encouraged her to do the same. "I wanted to feel sexually alive again, too."
In SHAMELESS (Rodale: January 18, 2011), Madsen reveals how she jumps the rail, tries unconventional hands-on sex therapists who help her "explore her desires all within the bounds of her monogamous marriage."
She might seem like an unlikely avatar of desire, but Madsen is everywoman, not a made-up svelte, 21 year old naïf who feels compelled to yelp, "Oh holy hell" with every new experience. Rather, she is the high-powered, oft-quoted non-profit executive who whispers, "Yes, please."
SHAMELESS has become a beacon for thousands of women who've spent lifetimes sublimating their sexuality, often to the detriment of their physical and emotional health, and long-term relationships. It is being passed from woman to woman, who are now hungry to read the real thing.
Praise for SHAMELESS and Pamela:
"You have stepped out of the molds that most of us are in, (you've honestly) talked about your marriage which is usually hush, hush, and I thank you. I cannot say how much YOU have helped me in so many ways. My life was a before Pamela, and an after Pamela."
-- SHAMELESS reader
"A most heady--and sexy combination. Pamela Madsen is the living, breathing embodiment of the power of pleasure to transform one's life."
—Christiane Northrup, M.D., author or Women's Bodies, Women's Wisdom
"If you've ever dreamt of becoming a real live sex Goddess Pamela Madsen will show you the way; with grace, integrity and joyful abandon.
—Annie Sprinkle, Ph.D., Ecosexual Sexecologist and Artist and author of Dr. Sprinkle's Spectacular Sex
"I want what she's having."
--Jane Pratt, JanePrattxo.com and Jane Pratt Radio
SHAMELESS
is available for purchase on Amazon.com and at your local independent bookstores. Madsen is available for interviews, appearances, book readings and events. Contact Wendy Knight, 347-924-2812, Wendy@KnightAndDayCommunications.com.