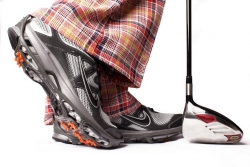 Manhattan Beach, CA, June 13, 2012 --(
PR.com
)-- Quick Spikes turn the shoes you're wearing into golf shoes. Quick Spikes LLC released their namesake product to the marketplace in August 2011 on their website
http://www.quickspikesgolf.com
Quick Spikes are an apparatus that stretches around the base of your footwear and attaches golf spikes to the shoe or sneaker, thus turning it into a golf shoe. See their story here:
http://quickspikesgolf.com/?page_id=33
Here are some reasons that Quick Spikes are gaining traction:
-Traveling golfers will no longer have to pack their golf shoes for trips. Quick Spikes take up 1/15th the amount of space of a pair of golf shoes.
-Kids love Quick Spikes as they love to wear their favorite sneakers everywhere and the golf course is no exception. Parents love them as one pair of Quick Spikes will last for years and they are not forced to buy new golf shoes every year for growing feet.
-Orthopedic footwear and orthotics users who cannot wear golf shoes are finding that Quick Spikes are the perfect alternative. They just slide Quick Spikes right over their custom shoes and have the desperately needed traction of golf shoes.
-New golfers can now have golf spikes without the investment in expensive shoes.
-Quick Spikes are great for the driving range as well as indoor golf simulators.
Quick Spikes has experienced a fantastic response since its introduction to the market. Mark Vitagliano, Vice President of Sales at Quick Spikes, said, "We've been to several tradeshows and have sold out our stock each time, people love the product and are excited about it!" Brendan Walsh, President and Founder of Quick Spikes agrees, "This is an exciting new product with applications for many different golfers. We think every golfer in America should have a pair of Quick Spikes in their bag."
Quick Spikes are available in two sizes Small/Medium (4 to 9.5 US) and Large/XL (10-14 US)
Quick Spikes are the perfect Father's Day gift at $24.95 per pair.
Check out their YouTube video at:
http://www.youtube.com/watch?v=2In8UeYLO84
Quick Spikes LLC has offices in Hoboken, NJ and Manhattan Beach, CA. You can purchase Quick Spikes on their website at
http://www.quickspikesgolf.com
.