Sun Your Bum in Sunny Palm Springs, California with Terra Cotta Inn's Dare to Go Bare Summer Vacation Room Sale
Skin is in this summer. From ABC, NBC, CBS, Fox TV, USA Today and more, the media is reporting that this year, nakations are the hot vacation trend. Nakations are topless and nude vacations at clothing optional or nudist resorts. So, get with the trend and find out how much fun everyone else has been having going skinny dipping.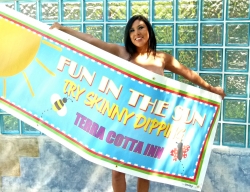 Palm Springs, CA, June 19, 2012 --(
PR.com
)-- Summer officially starts on Wednesday June 20th. According to a recent Harris poll, 57% of Americans did not take all of their vacation time due them in 2011. Vacation deprivation is a major problem in the US, one that can have negative impact on people's health.
The reasons given for not taking vacations are many. But, one of the biggest reasons is people are tired of the same old boring, big box, overpriced chain hotel vacations.
Well there's a better way to vacation. A vacation that you will look forward to, year after year. Get an all over suntan at The Terra Cotta Inn Clothing Optional Resort and Spa located in Palm Springs, California, the sunniest city in the US. Click here for their site:
http://sunnyfun.com
Does vacationing in your birthday suit sound far fetched? Well it shouldn't. In a CNBC poll, 52% of Americans said they'd like to try a naked vacation.
And The Terra Cotta Inn is the perfect choice for a nakation. The Desert Sun newspaper reported that the Terra Cotta Inn is the most mainstream clothing optional resort in the US and is perfect for couples trying topless or nude sunbathing for the first time.
"A few years ago, bragging to your friends that you spent over $500 a night at some big impersonal hotel in Mexico or the Caribbean was OK," say Mary Clare Mulhall who together with her husband Tom own TCI. "But not any more. As Conde Nast Traveler Magazine wrote, 'luxury is no longer about spending the most money; it's about getting the best value.'" And Terra Cotta Inn delivers value. MSNBC picked Terra Cotta Inn as the best value nude sunbathing resort out west. And in April 2012, AOL Travel reported that they are "considered one of the best value nudist vacation resorts in the world."
The Terra Cotta Inn is very popular. AOL Travel, Tripadvisor, USA Today, Chicago Tribune, Vancouver Sun newspaper and more always rank them as one of the top 10 best places in the US or world to go nude sunbathing. In July 2011, the Los Angeles Times newspaper gave them a Readers Choice award for being the most popular small resort in all Southern California. And they're the best because their guests are so friendly and nice. This is one of the many reasons why they have one of the highest repeat guest rates in the travel industry at just over 80% repeats.
The best way to make a Terra Cotta Inn vacation better is to have a special summer discount sale. From July 1st until August 30th, on Monday - Thursday nights, stay 1 night, take 50% off the second night. Rates start at $149/couple/night midweek. Book a week long vacation and rates are as low as $859/couple/night.
All rooms include free breakfast and afternoon snacks. To take advantage of the beautiful sunny weather, there is also free early check in starting at 10am and late check out until 5pm. Naturally wifi is free as there are never any hidden parking or resort fees at Terra Cotta Inn.
So use your vacation days to try something unique and fun this year. Take a romantic clothing optional vacation.
Give Terra Cotta Inn a call at 1-800-786-6938 for more information and reservations. Make this the year to say goodbye to your funny tan lines forever.
Contact
The Terra Cotta Inn Clothing Optional Resort and Spa
Tom Mulhall
1-800-786-6938
http://sunnyfun.com

Contact