How Hispanics Can Improve Skin Tone, Texture & Clarity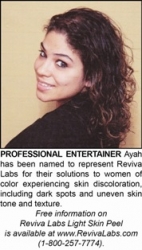 Haddonfield, NJ, June 28, 2012 --(
PR.com
)-- A solution for Hispanics and other women of color experiencing dull, uneven skin tone and texture, is being offered by one of the nations longest-established skin-care innovators.
Reviva Labs, Haddonfield, N.J., (www.revivalabs.com) has released research showing that varied ethnic, darker skins respond more favorably than others to a special cleansing lotion and unduplicated exfoliation cream.
The information reports that darker skins produce more build-up of dead skin cells than Caucasian skin. These hardened skin flakes can clog pores and create a dull, blotchy or blemished complexion.
Reviva Labs treats this problem with daily usage of its new "Brighten & Lighten" Facial Cleansing Lotion plus twice-a-week usage of its unique "Light Skin Peel" exfoliant.
Cleansing morning and night with new Brighten & Lighten Facial Cleanser deep cleans the skin and helps remove dead cells with its lactic acid and corn meal ingredients. Its kojic acid, mulberry and lime extracts account for its brightening action and even helps fade discoloration.
"Light Skin Peel" - the one -of-a-kind exfoliant
Used in professional skin salons, Reviva's Light Skin Peel is a cleansing supplement like no other and is considered by pros as the key to improving skin tone and clarity for ethnic skins.
Applied like a mask and left on skin for 5 minutes, the rub-off leaves skin smoother, brighter and clearer. Users report that once or twice a week usage results in improving the overall quality and texture of skin besides its immediate brightening and smoothing effects.
The duo is also included in Reviva's program for discoloration and dark spots which features day and night skin-lightening creams.
Reviva Labs natural skin products are available in leading Health Food Stores nationally and various cosmetic outlets.
More information on Reviva's new Brightening Cleansing Lotion and Light Skin Peel is available by contacting Reviva Labs, 705 Hopkins Rd., Haddonfield, N.J. 08033; Fax: 856-429-0767, or at www.revivalabs.com.
Note to Editor: A sample can be mailed to the Editor directly from Reviva Labs. Please let us know if there is a special name and address to whom an additional sample can be sent. Contact: Elena Cruz, American News Services, 29 Bala Ave., Ste. 114, Bala Cynwyd, PA 19004; Tel.: 484-562-0060; E-mail: adcomtimes@aol.com.
Contact
American News Services
Joe Ball/Elena Cruz
484-562-0060

Contact