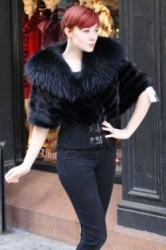 New York, NY, July 03, 2012 --(
PR.com
)-- On July 21st, 2012 at 7:00 pm, Marc Kaufman Furs of NYC is presenting a new Russian designer winter fur coat collection. Lots of one of a kind fur garments to choose from.
Fabulous fur fashion show to highlight the collection.
Marc Kaufman Furs is the Largest Fur Store in NYC. Marc Kaufman Furs has the largest selection of designer fur coats and fur jackets at wholesale pricing. Full length designer fur coats, designer mink coats, fur jackets, fox coats, fox jackets, sable coats, and sable strollers. For the softest in furs Marc Kaufman has the finest chinchilla trimmed mink coats, chinchilla coats, chinchilla jackets and lynx coats.
This event is for RSVP only. Please make your reservations early.
This event is being held at:
Marc Kaufman Furs
208 W29th street
New York, NY 10001
212-563-3877
e-mail kaufmanfurs@aol.com
www.kaufmanfurs.com