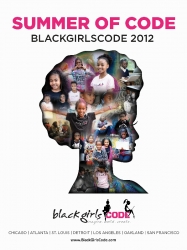 San Francisco, CA, July 07, 2012 --(
PR.com
)-- Black Girls Code, an up and coming Bay Area nonprofit, is leveraging an Indiegogo crowd funding campaign to help enroll 200-300 students in a summer computer programming series to take place in seven cities across the US during 90 days this summer. The classes taught will include topics such as "Build a Webpage in a Day" and video game programming. The organization's mission is to educate girls of color ages 7 to 17 in digital media and computer programming concepts as well as building lifelong skills in problem solving and abstract thinking. The Indiegogo crowd funding campaign and summer workshop series, tagged "Black Girls Code Summer of Code," was initiated to expand the reach of the fledgling organization beyond the Bay Area and to provide key program resource needs such as laptops for students who need loaners to take programming classes and to provide student scholarships and instructor stipends to support the organizations rapid growth and expansion.
Fresh off the success of a sold-out
"Build a Webpage in a Day
" workshop at DeVry University in Oakland CA on June 30th with more than 80 girls, Black Girls Code is currently preparing for its next event, a one day workshop to be hosted simultaneously in the Chicago, San Francisco, and Atlanta offices of software company ThoughtWorks. The organization hopes to utilize these web-making and game-building workshops to introduce more girls of color from across the nation to a wide range of highly focused computer programming concepts taught by a knowledgeable and experienced group of instructors and to inspire a love of technology as a tool for creation. The classes immerse students in a variety of technical computer-based topics, paving the way for future careers in computer programming and engineering.
Kimberly Bryant, founder of BGC, majored in Electrical Engineering with a minor in Computer Science (CS) at Vanderbilt University. Having worked several years in the tech industry, she began to notice the alarmingly low percentage of minority women in her field. After moving to the Bay Area, Bryant felt a calling to take action to give young women of color the opportunity to change the face of the industry. "It's very important that we encourage the girls to develop confidence, leadership, and collaboration. I think that with those skills they would have the ability to take on a career in technology or anything else they choose." Women currently make up half the college-educated workforce in the United States, but hold less than a quarter of professional or managerial roles in computer science, mathematics, engineering, and the life and physical sciences. In fact women's attainment of bachelor's degrees in Computer Science has steadily decreased from a high of 27% of degrees awarded in 1984 to less than 18% of degree holders today. Black Girls Code is determined to "change the equation" by introducing girls from underrepresented communities to technology at a young age and to feed the STEM pipeline.
The Black Girls Code Summer of Code campaign has gotten off to a great start with the organization raising close to half of its goal of $18,500 in a little less than a month. The organization plans to use to donations to fund various program expenses. One of the key goals is to invest in a mobile computer lab with the purchase 15-20 loaner laptops and accessories which will allow Black Girls Code to take their workshops to students in their communities and schools. Other program expenses include providing student scholarships and teacher stipends for upcoming weekend workshops and summer camps which have been seeing a heavy demand in numerous cities. The Summer of Code Campaign was in fact expanded to New York and Las Vegas due to requests from parents. Black Girls Code now has pre-registrations for workshops from more than two hundred students in cities across the United States.
Black Girls Code hopes the ambitious Summer of Code Campaign will help them to reach a large number of students and provide exposure for more youth to the opportunities in the fields of technology while paving the way for future expansion of their programs to Chicago, Oakland, and Atlanta in the fall. These efforts are a step in the direction of bridging the digital divide and changing the future face of technology.
For full details, including video and pictures, visit the campaign at
http://www.indiegogo.com/BlackGirlsCode
.
About Black Girls Code
Founded in 2011, the organization has made a big impact on the community in a short time. Only eight months after the initial pilot class in October 2011, Black Girls Code had a strong turnout for the Spring Class Series and has plans to offer similar workshop in three additional cities across the nation: Oakland, CA; Atlanta, and Chicago. The mission of BlackGirlsCode is to introduce programming and technology to a new generation of coders who will become the leaders and creators of tomorrow. blackgirlscode.org