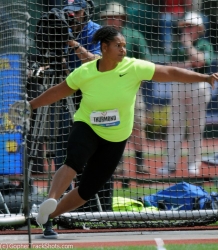 Fuquay Varina, NC, July 12, 2012 --(
PR.com
)-- Fuquay-Varina, NC based company, Skin Care for Athletes, the only organic and natural skin care line designed specifically for athletes and fitness enthusiasts, heads to the 2012 Olympics with two of their sponsored athletes.
Discus thrower Aretha Thurmond is heading into her 4th Olympics and only the 16th USA Track and Field athlete to do so. This is Aretha's first year as a Skin Care for Athletes sponsored pro and she states about the products, "I love the clean feeling after I shower and the moisturizers make my skin feel hydrated. I have confidence in Skin care for athletes because of the quality organic ingredients."
Bridget Franek is a 3000 meter Steeplechase runner and this is her first Olympics. She finished second at the Olympic trials at 9:35.62, just 3 seconds off of her personal best. This is also Bridget's first year as a Skin Care for Athletes sponsored pro and she says, "I have loved using the products. The Tri-Body Washes (Prep and Recovery) are my favorites."
"We are so proud of both Aretha and Bridget," said Taylor Sparks, Principal Goddess of Skin Care for Athletes. "Our Preparation, Achieve and Recovery products have supported them on and off the field all season long and will be there to do so in London."
Taylor Sparks of Fuquay-Varina is a late-blooming endurance athlete and certified holistic aromatherapist, who developed the products offered by Skin Care for Athletes because she recognized a need. She has participated in marathons, half-marathons and a half-ironman triathlon, and continually searched for ways to assist athletes with their skin care.
About Skin Care for Athletes
Skin Care for Athletes by Morning Indigo, is a certified B Corporation and is certified and highly rated by Environmental Working Group (ewg.org), Leapingbunny.org, Caringconsumer.org and is the only natural skin care line for athletes that is certified vegan by PETA.