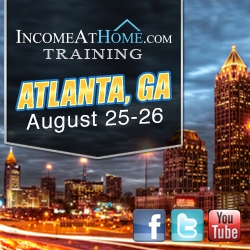 Atlanta, GA, July 25, 2012 --(
PR.com
)--
IncomeAtHome.com
– the premier online method to earn an income at home - recently announced that a major training event is to take place in Atlanta, Georgia, August 25 & 26 2012.
A recently posted
YouTube video
is now promoting the event where more than 700 members using the Income At Home method are all ready registered to attend. These members represent more than 25 US States and Canada.
Dr. Laura & Income At Home -
The weekend will begin with a rousing recorded introduction by none other than popular radio host
Dr. Laura Schlessinger
as she welcomes
IncomeAtHome
members to the event and will highlight the incredible success her business partner has enjoyed using the group's globally famous nutritional products.
Income At Home Event Details -
The Atlanta event will feature two power-packed days of meetings with hands-on training sessions featuring the newest upgrades to
IncomeAtHome's
, internet based training and marketing system -
Online Business Systems
.
Not forgetting the "work hard, play hard" mantra, the
Income At Home
crew will enjoy after hours entertainment packed full of parties, pictures, dancing, and plenty of refreshments for all in attendance after each day of training.
On top of these festivities a select group of
Income At Home's top members
will be whisked away to attend a private party hosted at an exclusive, downtown rooftop party venue.
What is Income At Home All About? -
IncomeAtHome.com
is affiliated with one of the largest health and wellness companies in the world with over 30-years of experience, that has paid out over $1,000,000,000 (yes 1 billion dollars) to its work-at-home members, last year alone. This International business, traded on the New York Stock Exchange, is known for its world-renowned products and is a sponsor of major sporting teams.
To that, add in modern and powerful Social Media Tools, Search Engine Optimization, and an incredible Online Training Platform that's second-to-none in the industry and you've got the
IncomeAtHome.com
method where people from all walks of life are generating income from their kitchen tables.
The power of modern tools from Income at Home paired with the rock solid stability of one of the largest health and wellness companies in the world, is worth paying attention to.
In just a few months
IncomeAtHome.com
will be coming to Atlanta, GA and no matter where you are, if you're looking for a way to earn an income at home, make sure to register at
www.IncomeAtHome.com
and get yourself ready to join all the fun in person.
Income At Home Endorsements -
IncomeAtHome.com, endorsed by popular radio hosts including
Sean Hannity
,
Dr. Laura
,
Glenn Beck
, and countless others, is the premier choice for working at home. In business since 2003,
IncomeAtHome.com
provides instant access to their work at home methods, and has helped thousands of satisfied members. Please see their website for important income and policy disclaimers.
Recent Income At Home Review -
Catching up with Mike & Rosie today who will be presenting at the conference in Atlanta, GA and are excited to talk about their experience.
"We saw an ad for
Income At Home
that piqued our interest and we were impressed by the business methods they used, the products, and our personal coach. That was just the beginning of an incredible journey. Our overall health remarkably improved almost overnight. We now have the vitality to keep up with our grandchildren and we're learning leadership skills to help others achieve success as well. Now, 8 years later, we're living the lifestyle that we've always dreamed of thanks to IncomeAtHome.com. This is a magical business that can take you anywhere you want to go!
"We'd recommend that anybody looking for a new direction and wanting to see
what Income At Home is about
give their website a try at
IncomeAtHome.com
."
Mike & Rosie B. - Olympia, WA
Find Us On
Facebook,
Twitter
&
YouTube