Hawaii Film Partners' Feature Film "You May Not Kiss The Bride," Written & Directed by Rob Hedden, to Premiere in Hawaii on August 31st, and Nationally on September 21st
A Red Carpet premiere with Cast Members is set for Wednesday, August 29th, at Consolidated Ward 16 Theatres in Honolulu, followed by a private after-party at Vice Nightclub.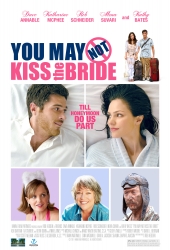 Honolulu, HI, July 25, 2012 --(
PR.com
)-- Honolulu-based Hawaii Film Partners will premiere their first feature film, "You May Not Kiss the Bride," directed by Rob Hedden from his original screenplay, at Consolidated Theatres on Oahu, Maui, and the Big Island of Hawaii on Friday, August 31, 2012. On September 21st, the movie will begin its U.S. mainland theatrical release.
Set in Chicago and Tahiti, the romantic adventure comedy was filmed almost entirely on location in Hawaii, and is produced by Hawaii Film Partners' Rann and Gina Watumull and David and Shauna Jackson. The film also features music by Hawaii artists, including Imua Garza, Willie K, Ben Vegas & Maila Gibson, Tiffany Thurston, Afatia Thompson, and Kapono Beamer, as well as an original song co-written and performed by Katharine McPhee.
An invitation-only red carpet premiere event with cast members is planned for Wednesday, August 29th, at the Consolidated Ward 16 Theatres. More details will be announced soon, and media will be invited to cover the red carpet.
"You May Not Kiss the Bride" stars Dave Annable (ABC series "Brothers and Sisters" and the upcoming ABC Series "666 Park Avenue"); Katharine McPhee (NBC's hit "Smash," "American Idol," "House Bunny"); Mena Suvari ("American Pie," "American Beauty"); Rob Schneider ("50 First Dates," "Deuce Bigalow"); Ken Davitian ("Borat"); Tia Carrere ("Wayne's World," "True Lies"); Vinnie Jones ("X-Men 3: The Last Stand," "Gone in Sixty Seconds"); Kevin Dunn ("Transformers," "Vicky Cristina Barcelona"); and Academy Award-winner Kathy Bates (NBC series "Harry's Law," "Midnight in Paris," "Misery").
The movie finds an unsuspecting Chicago pet photographer (Annable) being forced to marry the daughter (McPhee) of a Croatian mobster (Davitian). Action, adventure and romance ensue as the couple spends their fake honeymoon in Tahiti interacting with humorous, quirky, and dangerous characters, and realize that they may share real feelings for each other.
"We're extremely proud of our first film, the talented cast, and Rob Hedden's funny screenplay and comedic direction," said the film's producers. "The movie also highlights Hawaii's flexibility as a feature film location that can double for anywhere in the world, and showcases the versatility of Hawaii's amazing musical artists."
Director/Screenwriter Hedden previously wrote the original script for the action film "The Condemned" (2007, Lionsgate Films). He also co-wrote the story and screenplay, and co-produced Nickelodeon Films' "Clockstoppers" (Paramount Pictures). He had fun writing and directing "Friday the 13th Part VIII: Jason Takes Manhattan" (Paramount Pictures).
"We were looking for just the right screenplay for our next project, and when we couldn't find it, we decided to create one," said the film's producers. We spent almost two years collaborating with Rob (Hedden) on the story premise and script drafts.
"You May Not Kiss the Bride" is reminiscent of 'Romancing the Stone' in its blending of romance, mad cap humor, and edge-of-your-seat action. We're thrilled to have worked with Rob (Hedden) and such a terrific cast and crew. And we're extremely proud of Katharine's huge success in the NBC hit series 'Smash.' We know from working with her that she's a big star, and wish her the best in her bright, bright future in TV, film, and recording."
"When the producers approached me about writing and directing a movie in Hawaii, I jumped at the chance," says Hedden. "You simply can't beat the amazing scenery, location versatility, professional crews, and film-friendly environment. Working with Hawaii Film Partners on such a fun, action-packed romantic comedy fulfilled a lifelong dream."
Behind the camera, filmmaking talent includes Director of Photography Russ T. Alsobrook ("Forgetting Sarah Marshall," "Superbad"); Costume Designer Robert Moore ("Indiana Jones and the Kingdom of the Crystal Skull," "Marathon Man"); and Production Designer Scott Meehan ("Forgetting Sarah Marshall," ABC series "Lost").
About Hawaii Film Partners
Producers Rann and Gina Watumull are co-founders and senior executives at Hawaii Film Partners based in Honolulu. With the goal of helping to build a sustainable film industry in Hawaii, Hawaii Film Partners is dedicated to producing motion pictures, television shows, and animated projects in Hawaii with Hawaii ownership.
Producers David and Shauna Jackson are president and executive vice president, respectively, of Showcase Entertainment, a worldwide film distribution company, and are co-owners and senior executives of Hawaii Film Partners along with Rann and Gina Watumull.
Hawaii Film Partners' first project was the acclaimed, award-winning international hit television show for Discovery Kids, "Flight 29 Down," which is still airing in over 100 territories. Also for television, Hawaii Film Partners has produced 38 two-minute animated episodes of "Ape Escape" for Nickelodeon's NickToons™ Network. Rounding out Hawaii Film Partners' ambitious slate is the original animated television series, "Guardians of the Power Masks," which marks an historic international partnership with the Chinese City of Changzhou and the Gangwon Information Multi-Media Corporation (GIMC) in South Korea. Production of this animated children's series is near completion.
Hawaii Film Partners plans to produce more feature films and television projects in the State of Hawaii.
For more information on the film, please visit
http://www.facebook.com/YouMayNotKissTheBride
.
Contact
Hawaii Film Partners
Mona K. Wood-Sword
808-218-5546
http://www.facebook.com/pages/Hawaii-Film-Partners/218951808512

Contact