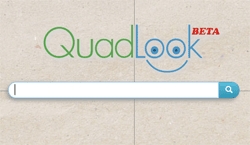 Toronto, Canada, July 26, 2012 --(
PR.com
)-- QuadLook is a search engine that effectively pioneers the four dimensional search. It categorizes content into four distinct quadrants making it a fresh experience. One quadrant displays the genuine website results, the second quadrant shows images and videos from YouTube, and the next quadrant presents Blog and Wikipedia results while the fourth quadrant finds news content and conversations on Twitter.
"Oh Wow!" moments sparkle even with common searches as diverse as "Cooking recipes, best diet plans, gift ideas, fashion tips, celebrity gossip, how to's, smartphone comparisons, UFC fighters, Obama vs Romney, olympic events details." Curiously, many teens and students say QuadLook helps them with homework and even finding summer jobs. As users see relevant YouTube videos and real-time Twitter conversions, QuadLook broadens your perspective and makes search easier.
With four times the information, you have the ability to expand quadrants that you are interested in and then search deeper, making it a quicker way to gather information.
People say they love QuadLook because it searches everything at once, saves them time and is very intuitive. Also the platform turns Twitter into a rich source of fresh information, with zero learning, that even grandmothers say is easy to use.
Be the first to check out www.quadlook.com and bookmark it for your regular web search.
As more and more users start using the search platform in Beta mode, the company is refining specific functionality and design elements based on the constant stream of feedbacks, fixing bugs and adding new servers to meet the skyrocketing usage. QuadLook's platform is being recognized at variety of tech events for the innovative solution to the world of search.
QuadLook.com
is a completely self funded project by a tiny startup team, that caught everyone by a surprise, and investors are meeting with Ivan Tsarynny, CEO of TTP Logic Group to help grow it together.