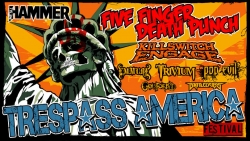 Toledo, OH, July 27, 2012 --(
PR.com
)-- As part of Revolver's ongoing effort to raise awareness for a new alternative to traditional smoking, the company is partnering on a Facebook promotion with Five Finger Death Punch (5FDP) and other popular bands currently touring the nation as part of the Trespass America festival. Revolver will be giving away two passes to every stop on the tour to see 5FDP– the Los Angeles-based heavy metal band with nearly two million Facebook fans – and other Trespass America artists. Eligible participants in the U.S. and Canada will be required to "Like" the Revolver Facebook page and leave a comment stating which show they'd like to attend. A winner will be announced for each tour date and contacted by Revolver. One Grand Prize Winner will receive a Talon starter kit signed by Five Finger Death Punch, two tickets to a Trespass America show of their choosing, a Five Finger Death Punch signed poster, and a signed CD of "American Capitalist!" Enter for your chance to win now at www.facebook.com/revolvercig.
"We're absolutely thrilled about the opportunity to partner with some of our favorite bands to raise awareness about electronic cigarettes," said Matt Smith, CEO of Revolver Electronic Cigarettes. "This is promotion is an excellent way to bring a true alternative to smoking into the mainstream as well as to give something cool back to our existing customers. Five Finger Death Punch, and really all of these artists, are big names that are going to help propel our products to a new level. We're all very excited about the opportunity."
For complete contest rules and to learn more check out Revolver on Facebook at www.facebook.com/revolvercig. More details about the Trespass America festival can be viewed online here: http://trespassamerica.com/. More information about Revolver and the company's full catalog of e-cig products can be found at http://revolvercig.com.
About Revolver:
Established in 2009, Revolver Electronic Cigarettes a leading online and storefront distributor of electronic cigarettes and other vaping products. They opened their doors with the commitment to teach people that there is a better alternative to traditional smoking. They are dedicated to selling quality electronic vaping devices and vaping accessories. The company is an industry leader in all facets and is known for their exemplary customer service. They boast a product line that includes six different core electronic cigarette models, over 100 different flavors of e-liquid and cartridges, with full support and accessory lines for each model. All of Revolver's products can be found online at revolvercig.com as well as their retail locations in Iowa, Michigan, and Ohio.