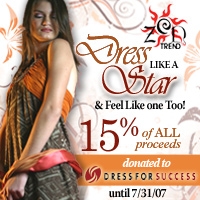 San Francisco, CA, June 23, 2007 --(
PR.com
)-- ZenTrend.com, San Francisco Bay Area based e-tailer (www.zentrend.com) , wants you to open your wallets and hearts by purchasing high fashion for yourself and at the same time helping other women who cannot afford to do so themselves. ZenTrend is celebrating summer by donating 15% of its proceeds to New York-based premiere women's charity, Dress for Success, until July 31, 2007.
"Our commitment is to make stylish shopping meaningful and socially relevant for both our base of customers and our global artists. Dress for Success, a renowned multi-country charity, is a natural partner in this journey. The current initiative running through July is designed to attract buyers to the worthy cause of supporting underprivileged women in their professional goals," said ZenTrend.com owner/CEO, Lekha Srinivasan.
The theme 'Dress like Star and Feel like one too!' invites ZenTrend.com shoppers to purchase any item on the website. 15% of each sale ( until July 31, 2007) will go towards supporting Dress for Success in its mission to provide career training and professional wardrobe for underprivileged women worldwide.
Dress for Success is the newest charity partner for the San Francisco-based e-tailer. As part of its community outreach initiative, ZenTrend.com recently sponsored the Association of Deaf State Beauty Pageant in Alabama and the participated in the Dress for Success silent auction at a Gala in San Francisco. ZenTrend.com actively seeks and strengthens ties with local and national support groups. A core part of this philosophy is sponsoring events and donating to causes which connect art and style with underprivileged groups within society.
###
ZenTrend LLC, headquartered in Mountain View, CA, sells contemporary women's apparel that highlight the unique design synergies and nuances from the East, through its on-line clothing store. ZenTrend creates an uncommon range of styles based upon a blend of eastern designs and western trends with hand-crafted embroidery, sequins and embellishments. The website can be found at www.zentrend.com .
Dress for Success, an international non-profit headquartered in New York City, provides professional attire, career development tools and a network of support to help disadvantaged women thrive in work and in life. Since 1997 they have helped more than 350,000 women work towards self-sufficiency. Currently there are over 80 affiliates worldwide, including an office in San Francisco. More information can be found at www.dressforsuccess.org
For more information on ZenTrend.com, please contact: Lekha Srinivasan. Phone: 650-996-6159. Email: info@zentrend.com
Web: www.ZenTrend.com
Phone: 650-996-6159
Email: info@zentrend.com