New eBook by Larry Ivkovich Published by IFWG Publishing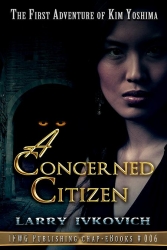 Pittsburgh, PA, August 06, 2012 --(
PR.com
)-- "A Concerned Citizen," by Larry Ivkovich (author of The Sixth Precept) is the sixth in IFWG Publishing's e-chapbook series and is now available on amazon.com, barnesandnoble.com and IFWGpublishing.com.
"A Concerned Citizen" is the first of The Sixth Precept's protagonist Kim Yoshima's adventures. A series of unexplained appearances and disappearances of people dressing and acting like literary and comic book characters catches the attention of Pittsburgh Police Lieutenant Yoshima.
After encountering a mysterious man with meta-acute speed, reflexes and strength, Kim realizes there's more to the "Literary Terrorists" case than just a bunch of crazy cultists.
And that the fate of the entire space-time continuum is at stake.
www.amazon.com/s
www.barnesandnoble.com/c/larry-ivkovich
ifwgpublishing.com/
Contact
Larry Ivkovich
412-262-1958
http//mysite.verizon.net/vzesw7nb/
412-417-4678

Contact