Luxury Travel Ltd. to Promote the Golden Central Coast of Vietnam
Luxury Travel Ltd. (www.luxurytravelvietnam.com) Unveils "Discover The Golden Central Coast of Vietnam in Luxury Style in 10 days."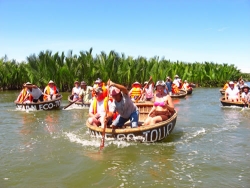 Danang, Vietnam, August 08, 2012 --(
PR.com
)-- This newest tour lasts 10 days which helps visitors to see the top highlights of Central Vietnam (including Danang – Hoi An – Hue – Quang Binh), discover new destinations, stay in the newest and trendiest hotels and resorts, as well as experience the finest cuisine.
Vietnam has always had extraordinary charm, in part because of the French colonial influence still evident throughout much of the country. Its jaw dropping scenery, fabulous food and friendly locals all contribute to the country's appeal to travelers. But in recent times the destination's luxury offerings have also had great appeal, due to new luxe hotels, beautiful resorts and world class golf courses, especially in Central Vietnam.
Danang now has a new international airport and launched direct international flights throughout Asia, which has given a boost to local tourism. This makes movement in the central area much easier than it had been previously.
This tour focuses on local life and food. Starting in Hanoi or Saigon, visitors will then fly directly to Danang International Airport. From here, they will gradually access each spot of the central area with the help of an experienced guide and, along with local experts, they will discover the most charming aspects of each destination.
"The Golden Central Coast of Vietnam boasts a rich mix of attractions. Besides the stunning beaches, sumptuous resorts and golf links, there are numerous UNESCO accredited cultural heritage sites, including the centuries-old former port town of Hoi An, once an international hub for merchants in Asia. There is also the former imperial city of Hue (home to the throne of the Nguyen Dynasty from 1802-1945) and the My Son ruins, the spiritual home of the Kingdom of Champa, dubbed the 'Valley of Kings' by French archaeologists. There are also mountain retreats, DMZ, the Vinh Moc tunnels and the natural wonders of Phong Nha Ke Bang National Park, making this trip one with something to offer for everyone," said Pham Ha, Founder and CEO of Luxury Travel Ltd.
The tour price starts from US$2,445 per person (30 millions VND). Accommodations for two people are in twin, shared rooms at luxury five-star hotels. Price includes all transportation, return domestic flights from either Hanoi or Ho Chi Minh City, meals, entrance fees, boat trips and the services of an English-speaking guide. This offer is valid until 30 December 2012.
"One of the attractions of this tour is that visitors will visit colonial sites by Jeep. They will also experience street food with an expert in local cuisine. Each region of Vietnam has different flavors of food, but the central region really offers something that cannot be compared with any other type of food in the world. Central Vietnam has a wide array of activities and landscapes that appeal to a mix of travelers, including tropical beaches, post-colonial towns, world heritage sites, top cuisine and more. Each tour is designed with flexibility to suit travelers' personal interest, schedule and energy level," said Hong Linh, Marketing Executive at Luxury Travel Ltd.
For more information and booking, visit: http://luxurytravelvietnam.com/EN/Vietnam_tours/Culturetours/Discover_The_Golden_Central_Coast_of_Vietnam_10days.htm
About Luxury Travel Ltd
Vietnam-based Luxury Travel Ltd is a long established Asian specialist in the art of travel and serves today's most sophisticated travelers, in luxury privately guided and fully bespoke holidays in Vietnam, Laos, Cambodia, Myanmar and Thailand. Luxury Travel excels in designing tailor-made tours and providing unique travel experiences to fulfill the most sophisticated traveler's expectations. Luxury Travel Ltd. has won numerous travel awards for excellent performance, including the most recent award: Best Luxury Tour Operator.
Contact
Luxury Travel Group Ltd
Linh Doan
84439274120
www.LuxuryTravelVietnam.com
5 Nguyen Truong To Street, Ba Dinh Dist, Hanoi, Vietnam

Contact
Multimedia
Luxury Travel (www.luxurytravelvietnam.com) Unveils "Discover The Golden Central Coast of Vietnam in Luxury Style in 10 days."