M-B Building's Platinum Collection Door Weatherstrip Replacement Exclusively Available Online from The Hardware City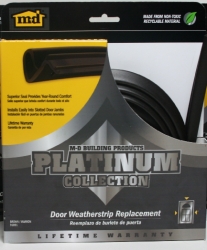 Issaquah, WA, August 10, 2012 --(
PR.com
)-- Combat the weather and defend your home with the new Platinum Collection Door Weatherstrip Replacement by M-D Building Products, only offered exclusively online at The Hardware City.
Your home relies heavily on its door seal. If that seal ever fails, you not only have to worry about a draft entering your home, but the higher energy bills associated with counteracting those leaks. Door seals can go out over time, especially if they were manufactured over five years ago using subpar technology. As the seasons go by with this inferior product, your door's seal will crack, peel, fade and even begin to chip away – all leaving your home exposed to the elements more than you might realize. A loose, worn or cracked door seal can expose the interior of your home to extensive water damage, especially during the rainy season. If you have noticed an accumulation of dust in your entranceway, you can attribute that to your faulty door seal. Overtime, as this seal flaw expands, you will notice your energy costs rising during mid-winter and summer months (when weather is at its worse), but the good news is you can reverse the damage.
This revolutionary, one-of-a-kind kerf-style door seal is made from 100 percent reclaimed non-toxic material. Providing your home with a superior seal that will outlast the harsh winter weather and the grueling summer heat -- all while holding the only guarantee of its kind! M-D Building Products promises customers that their new door seal will never fade, peel or crack, which means you can reduce your energy costs and regulate the temperature inside your home for years to come.
Get this eco-friendly door seal solution exclusively at Hardware City, the only store online currently offering this product. Hardware City is your number one supplier of high-quality tools and home repair products at competitive prices. Dedicated to providing homeowner and business customers with the highest quality customer service and best tools in the market, Hardware City is a customer's one-stop shop for all of your Do-It-Yourself home repair needs.
Contact
The Hardware City
Sumesh Bhagat
1-888-252-4252
www.thehardwarecity.com/

Contact