The C.R. Ecker Band Shifts Attention to Needs of the "Unappreciated Woman" with Its New Country/Rock Single "Whisper Sweet Nothins"
Ever since last Summer with the introduction of several songs directed to male listeners, most notably "I Just Wanna' Meet Girls, " The C.R. Ecker Band has shifted its focus to a predominately female audience, most recently with "Whisper Sweet Nothins." This country/rock song, out on digital release globally, recounted by female lead Amber Rose, details the frustrations expressed by millions of women to tell their husbands or significant others to "sit down and listen up."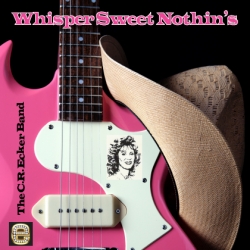 Los Angeles, CA, August 14, 2012 --(
PR.com
)-- With "Hope Springs," a motion picture about restoring passion in a mature relationship, and a nearly 40% couples dissatisfaction rate in adult American female and male mutual affection surveys, The C.R. Ecker Band plants its flag in this topical minefield with "Whisper Sweet Nothins," a song the composer and band's leader calls "an anthem for the unappreciated woman."
This uptempo country/rock song has been released via digital download services globally, including iTunes, Amazon mp3 and CD Baby. And beginning September 1, it will be broadcast over 400 country music stations true to its "Made in America, Heard 'Round the World" band moniker.
"My wife came up with the title," notes Ecker, founding the band in Los Angeles and subsequently moving production to Nashville earlier this year. "So I took pen to paper, then grabbed my keyboard and not too long after that, out came the song."
Ecker, who wrote from a female perspective, as he had done before with "Your Smile Says it All," "I Believe in You," "A Bright Tomorrow" and (co-written) "Heartless," has "a loving wife of 25 years. As a result, I do look at the other team's playbook sometimes for ideas," he says wryly.
"They say a songwriter should write from personal experience, and that has been the case for me all this time composing music with a wonderful wife supporting my efforts. I hope I am a better person than the 'object of the dissatisfaction' detailed in 'Whisper Sweet Nothins' and maybe the guys who hear this song might follow the singer's advice to listen and learn a few things about showing love and appreciation properly.
Ecker is quick to note that he composed a digitally released song with a male perspective expressly for his wife --"When God Created You." Several others will be released in 2013 to add to the 18 now in circulation.
Are there any other songs like "Whisper Sweet Nothins" that draw a quick link? "I guess for a very close comparison," notes Ecker, 'Consider Me Gone' by Reba McEntire. On a much broader thematic level, "Dangling Conversation" by Simon & Garfunkel. There are hundreds of cross-genre songs that deal with infidelity, but that topic does not even hit a note in 'Whisper Sweet Nothins.' In fact, it's not even implied.
"Simply stated - my song is about male indifference and resulting female frustrations, all too common these days among women, expressed through Amber's voice in easy-to-understand words should they embrace the song and their partners choose to listen. And yes, it can work the other way. But this song comes from the fair-sex POV so I will leave it up to others to compose a counterpoint."
"Whisper Sweet Nothins" comes one year after the band's introduction. The band can be accessed through search engines at The C.R. Ecker Band (Behind the Wall).
Contact
Charles R. Ecker Music Publishing
Charles Ecker
310-823-5716
http://thecreckerband.com/fr_home.cfm
cell number - 310-486-0749

Contact