Lennar's Multi-Generational Home a Success in Arizona
The national home builder created a home within a home, affording privacy yet affordability for multiple adult generations living under one roof. Lennar has sold more than 100 such homes in six months in Arizona alone.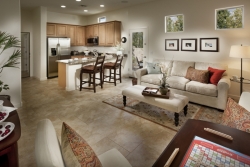 Phoenix, AZ, August 15, 2012 --(
PR.com
)-- When Lennar created its series of home plans that address the needs of multiple adult generations living under one roof, the home building company knew it had identified a niche driven by the economy and the aging of America. The national demographics pointed to the fact that adult kids were moving back home because they were unemployed or underemployed, aging parents were needing an affordable place where loved ones could be close by, and families were spending more time at home creating the need for creative and flexible spaces.
What Lennar didn't realize was how big of a hit the Next GenSM - The Home within a HomeSM, concept would be. Since New Years, Lennar has sold more than 100 NextGen plans here in Arizona alone. "Clearly we've hit on a concept that is meaningful to the home buying public. We never dreamed we'd be selling at this velocity in 2012, but the plans are offering specific solutions, affording privacy and flexibility," said Alan Jones, Lennar Arizona Division President.
For Alfredo Velasquez, who lost his wife in 2008, the idea of sharing a home with his extended family made sense. He bought the Freedom plan in Phoenix, an appropriately named plan for the disabled American veteran, with a total of 2,107 square feet. "It's a way for me to help my daughter, my grandchildren, and my sister. I live in the NextGen suite and they all live in the main part of the home. I have my own living room, kitchenette, bedroom, and a separate entrance from the garage. It's like my own 'man cave'," he said.
Lennar has 18 communities in the greater Phoenix and Tucson metro areas, and many of those neighborhoods offer one or more of the four Next GenSM - The Home within a HomeSM plans. Single story plans include the 2,945 square foot Evolution and the 2,334 square foot Genesis plan. The two story designs are the Independence plan at 3,142 square feet and the Freedom plan with 2,107 square feet.
Tom Moser and his family are taking the idea togetherness to the next level. Raised in a small Mennonite community in Indiana where a sense of family and taking care of one another was an integral part of his upbringing, Moser closed escrow six weeks ago on a Next GenSM - The Home within a HomeSM plan in Dove Mountain, located in Marana, northwest of Tucson.
He has recruited two other family members to purchase homes on the same cul de sac and they will share a pool and garden space, creating a true sense of community and caring for one another. His 81 year old father has relocated from Phoenix to Tucson to live in the NextGen suite, located within Moser's home. Moser's sister and her husband purchased the home to the right, and the brother in law's 89 year old parents have moved into their NextGen suite. Moser's mother in law purchased a home on the left side of Moser's to complete the family picture.
"My father commented to my nephew with tears in his eyes, 'I will not have to be lonely anymore'. Older people tend to keep their lonely state within as they do not want to be a burden on younger family members. I think one of our greatest challenges in the 21st century will be how we provide for people who live longer lives, yet give them the privacy they need and deserve," said Moser.
Lennar has come up with more than three dozen different uses of the suite – in addition to a comfortable place for an aging parent or grown child, it could be a teen room, a home office, a caretaker or nanny's quarters, a man cave. Its flexible design allows families to use, and perhaps change usage based on their evolving family needs.
Pew Research Center shows 49 million Americans are living in a household that contained at least two adult generations, up from 28 million in 1980, and Lennar's own in-house research of over 1,200 western region homeowners showed one-third were already sharing a home.
Lennar has since expanded the Next GenSM - The Home within a HomeSM series to points across the country, but it all started here in Arizona.
Lennar was founded in 1954 and is one of the nation's leading builders of homes for people of all ages. The publicly-traded company has been building in Arizona for more than 45 years and owns considerable land holdings in the state. For the latest Lennar information please visit any of the following: Lennar.com, Facebook.com/LennarPhoenix;Facebook.com/LennarTucson; YouTube.com/LennarPhoenix;YouTube.com/LennarTucson; Twitter.com/LennarPhoenix, and Twitter.com/LennarTucson.
Contact
Master Planned Communications
Martha Moyer Wagoner
602-861-8006
www.masterplannedcommunications.com

Contact