ARIDO Latest Collaboration ADAMS&ARIDO
Fine Art jewelry created with the highest quality gems and precious metals in the world. Founded by a scion of a family of jewelers dating back to the 11th century and a world class designer with a background in fashion, art, and history. Timeless, handcrafted pieces to treasure forever.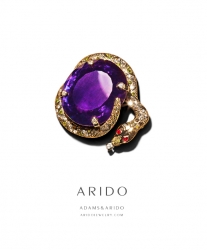 Beverly Hills, CA, August 15, 2012 --(
PR.com
)-- When ARIDO teamed up with Egyptian jewelry designer Sam Salama there were just few rules to follow: meet nice people and have a good life.
Both of which comes pretty easy when your sole mission is to search the world for precious gems and create luxurious jewels.
ARIDO has extensive experience when it comes to knowing what it takes to get on the A-list.
ADAMS&ARIDO is the latest Collaboration.
It has been presented on the world tour in China, touring the cities of Shanghai, Dalian, Chengdu, Hangzhou, Wenchuan, and Neijian.
aridojewelry.com/collaboration.html
ADAMS&ARIDO Winter global campaign will be featured in the Ritz Carlton & JW Marriott Magazine worldwide October 1, 2012.
ADAMS&ARIDO will be presenting August 27-29 in Beverly Hills CA.
Contact
ARIDO Jewelry
Thomas Chappell
808-489-2934
www.aridojewelry.com

Contact