"Ten Men on the Field" Selected by 2012 Baseball Film Festival in Cooperstown
Scott Essman's short film about professional baseball, "Ten Men on the Field," has been selected by the National Baseball Hall of Fame's 2012 Baseball Film Festival, taking place September 28-30 in Cooperstown, New York.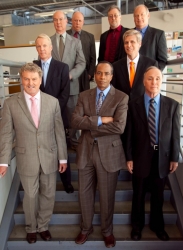 Los Angeles, CA, August 27, 2012 --(
PR.com
)-- The 28-minute film concerns a lone baseball executive who, in a secret boardroom meeting, confronts fellow nationwide executives conspiring to change a key rule in the game. Though fictional, the film, shot in California in 2011, actually predicted one aspect of pro baseball which came true for the 2012 season.
Starring Wil Bowers, David Alan Graf, Jeffrey Markle, and Dean Scofield, "Ten Men on the Field" was filmed in La Verne, Lake Forest, and Rancho Cucamonga, California in May and June, 2011. One scene set on an actual baseball field was filmed with members of the Single A-level Rancho Cucamonga Quakes, an affiliate of the Los Angeles Dodgers.
Cinematographer Dean Cundey, who had previously filmed John Carpenter's "Halloween" and "The Thing," Robert Zemeckis' "Back to the Future" series, and Steven Spielberg's "Hook" and "Jurassic Park," consulted on the film, establishing the look of the film's interior scenes.
"Ten Men on the Field" is also part of the National Baseball Hall of Fame film library and the permanent library of the Motion Picture Academy of Arts and Sciences.
Filmmaker Scott Essman, originally from Long Island, New York, resides in the Los Angeles area.
For more information about this film, please visit,
www.tenmenonthefieldmovie.com
.
Contact
Visionary Cinema
Scott Essman
626-963-0635
www.visionarycinema.com

Contact
Multimedia
Details about the 2012 Baseball Film Festival at the National Baseball Hall of Fame.