J.W. Pepper Announces New Music Self-Publishing Service for Composers
My Score makes J.W. Pepper's network available to composers who want to self publish and sell music online.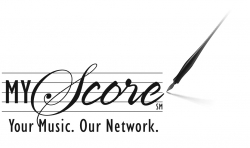 Paoli, PA, August 31, 2012 --(
PR.com
)-- Due to the growth of digital and print-on-demand technology, composers of original works who want to
self publish
and
sell music online
now have access to publication like never before. The challenge that remains despite this ease of publication is how amateur and non-professional composers can find the right market for their music. Targeted exposure to the right consumers can define whether a piece gains a wide audience or lingers in obscurity.
J.W. Pepper understands the composer's constant hunt for this audience, and to this end, is proud to announce the launch of My Score. My Score is a sheet music self publishing platform that gives composers access to J.W. Pepper's highly-engaged network of music consumers. Writing the music is only half the battle in getting new works into the hands of musicians, and My Score exists solely to facilitate new music receiving the sales it deserves.
According to J.W. Pepper President Glenn Burtch, the company is uniquely poised to fill the needs of new composers. "My Score is a great fit for Pepper. We have the infrastructure to connect composers with performers and deliver a professional quality printed edition of the music. Many composers are also Pepper customers. We're so pleased to give them access to our technology and systems to distribute their music, as well as potential exposure to the music publishing community. We see it as another way we help writers fulfill their musical goals."
By partnering with Pepper through My Score, composers gain marketing strength without a loss of creative control. Composers who publish with My Score maintain the copyright to their work. The flexibility of print-on-demand and digital delivery ensures that no item need ever go "out of print," outside of the creator's wishes.
Composers who master how to publish music also gain a robust and secure promotional platform. From their dedicated online composer pages, artists can direct interested buyers to their products on jwpepper.com, as well as include information about their social media networks, web presence, and biography. Pepper supports the sales process with the production of a professionally-printed product, same-day shipping on most orders, secure file delivery and payment, and multi-faceted account support.
While publishing with an established music publisher is still a viable approach to music delivery, J.W. Pepper recognizes that sometimes this option does not fit a composer's needs. My Score exists for those instances. For a reasonable initial fee and a very competitive royalty rate, any composer who wants to share his or her vision with the musical community now can, supported by J.W. Pepper's commitment to quality and service that has made them an industry leader for over a hundred years.
Contact
J.W. Pepper & Son, Inc.
Kathy Fernandes
610-648-0500
www.jwpepper.com

Contact