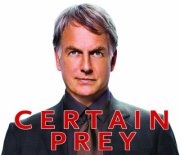 Santa Monica, CA, September 05, 2012 --(
PR.com
)-- Xenon Pictures in association with Howard Braunstein Films, Michael Jaffe Films and Wings Production is releasing the Mark Harmon film "Certain Prey" on DVD Tuesday September 11th. The movie is based on the popular John Sanford novel and was written and directed by Chris Gerolmo ("Citizen X," "Mississippi Burning"). Harmon serves as executive producer along with Michael Jaffe and Howard Braunstein ("The Informant," "The Client List").
NCIS star Mark Harmon has gained critical praise playing Detective Lucas Davenport the complex hero of John Sandford's bestselling "Prey" series. When a cop is shot after witnessing a murder, Davenport works with the FBI to smoke out the killer, who turns out to be an elusive hit woman (Tatiana Maslany) and her accomplice Carmel (Lola Glaudini) a high-powered attorney leading a double life. As Carmel and Clara try to cover up their crimes, the body count grows and Davenport breaks all the rules personally and professionally in order to bring them in.
This was a dream project for Mark Harmon who served as Executive Producer with Howard Braunstein and Michael Jaffe and was involved with the film's development from day one. Harmon thinks the Prey novels and the character of Lucas Davenport would make a great film series.
Mark Harmon's TV show NCIS was voted America's favorite television show in 2011 and is watched by 19 million Americans every week. In March 2012, CBS renewed NCIS for a 10th season. Harmon has also been voted America's Favorite TV Personality.
"Certain Prey" was based on the bestselling novel by Pulitzer Prize-winning author John Sanford who has written 22 best-selling "Prey" novels along with many other award-winning books.
Xenon Pictures is an independent film and media distribution company specializing in star-driven cutting edge urban dramas and popular independent films often over-looked by the mainstream studios.