OEM Load Cells – Improved for Custom Requirements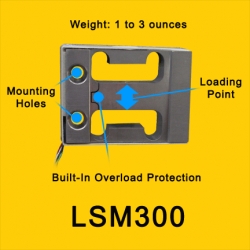 Irvine, CA, June 30, 2007 --(
PR.com
)--
FUTEK Advanced Sensor Technology
, Inc is now able to offer its LSM250 and LSM300 Precision Load Cells to meet custom requirements such as high temperature (steel version only), low temperature, water resistant, and high humidity for custom applications. In the past these products were not able to withstand to such environments as the components were exposed (on the LSM250) or had limited coverage (LSM300). Futek Engineers can modify these standard products to meet more resistive environments. Additional enhancements can also be made to use these Precision Load Cells in MRI applications.
The standard LSM250/300 Precision Load Cell series offers an OEM solution with exceptional accuracy and price for high volume applications. The product is utilized in both tension and compression, and are used in applications such as Medical Bag weighing, Hand Held Force Gage applications, Robotics, and Force Feedback Control Devices.
What makes this product even more attractive is the built in Overload Protection (standard feature on both the LSM250 and LSM300) providing up to 10 times (depending on capacity selection) the capacity that could take place during installation. Additional design features include a simple mounting installation and a one piece construction.
The LSM250 Precision Load Cell is offered in 2024 Aluminum (1/4 - 1 lb) with a length of 1.49", width of 0.38" and a height of 0.93"and it has a 6" 29 AWG 4 color coded Teflon lead wire. The LSM300 Precision Load Cell is offered in 2024 Aluminum (2.2 – 100 lbs) or 17-4PH Stainless Steel (200 – 500 lbs) has a length of 1.80", width of 0.50" and a height of 1.40"and it has a 6" 29 AWG 4 color coded Teflon lead wire.
LSM250/300 Product Highlights
-Now available for high temperature (steel only), low temperature, water resistant and high humidity environments.
- Ideal for OEM Applications
-In both Tension & Compression
-High Accuracy (0.02% LSM250, 0.05% LSM300)
-One Piece Construction
-Built in Overload Protection
-Bonded Foil Strain Gage Based
-1000 Ohm high resistance bridge
-Available in both Aluminum and Stainless Steel
-Weight: 1 – 3 oz
Futek also offers the LSM200, LSM400, and LSM500 as additional products in the OEM series. These Load Cells will vary in accuracy but it offers various capacity options and size ranges. In addition to our OEM Load Cells, Futek carries over 400 products cover various Load Cell Designs, Torque Sensors, Pressure Sensors and related Instruments.
###
Contact
Futek Advanced Sensor Technology, Inc.
Navid Mokhberi
949-465-0900
www.futek.com

Contact