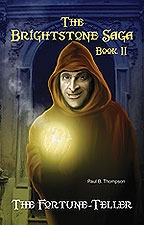 Berkeley Heights, NJ, September 12, 2012 --(
PR.com
)-- The highly anticipated second book of The Brightstone Saga trilogy, by Paul B. Thompson, will satisfy the reader's curiosity after reading the first book in the series, The Brightworking (ISBN 978-0-7660-3950-6), which was released earlier this year.
In this second book, The Fortune-Teller, the mystery deepens. The mysterious magic increases throughout his journey and Mikal must fight dangerous creatures in order to keep the secret of the future, from the evil wizard Harlano. Mikal realizes that with the power of predictions comes the risk of changing the world forever.
"The Fortune-Teller delivers a fast-paced adventure for readers in grades 5 and up," says Mark Enslow, President of Enslow. "In this three-book saga, each book builds excitement leaving the reader wanting to read more."
The Fortune-Teller: Book II of the Brightstone Saga
(ISBN 978-0-7660-3983-4) will be available January 1, 2013 and can be purchased directly from Enslow Publishers, major book distributors, retail bookstores, and online retailers.
Enslow's award-winning titles have been recognized by organizations such as the American Library Association, the NAACP, VOYA, the National Council for the Social Studies, Notable Social Studies Trade Books for Young People, and the Society of School Librarians International.
To learn more about Enslow Publishers, Inc. and their titles, visit enslow.com. Members of the media who wish to review this book may request a complimentary paperback copy by contacting the publisher at 1-800-398-2504.