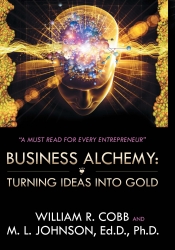 Denver, CO, September 11, 2012 --(
PR.com
)-- Entrepreneurship plays an essential part in the growth of the United States economy.
According to the Business Employment Dynamics program and the United States Bureau ofLabor Statistics:
The number of new business establishments for the year ending in March 2010 was lower than any other year since the BED began tracking statistics in 1994.
The numbers of jobs created by establishments less than one year old have decreased from 4.1 million in 1994, when the BED series began, to 2.5 million in 2010.
Nearly six in ten businesses shut down within the first four years of operation.
"We've have found most new businesses are prone to failure because they lack access to effective business models," said William Cobb, co-author of Business Alchemy. "By providing in-depth guidance, we clarify the process encouraging budding entrepreneurs to take their shot."
Believing the future of economic growth rests in the hands of the innovators, Cobb, along with his co-author M.L. Johnson, wrote Business Alchemy to educate individuals wanting to create new business ventures and be their own boss.
To guide entrepreneurs, Cobb and Johnson mapped out a strategy focusing on three primary themes: education, innovation and economic development. Their book instructs readers on howto create new companies, harness their creativity and keep their business competitive.
Addressing the entire entrepreneurial process, Cobb and Johnson guide the reader step-by-step through various business models, demonstrating to emerging entrepreneurs how to perfect an idea, secure capital and launch a new business.
An educational guidebook, Business Alchemy provides entrepreneurs with the information for which they have been searching.
Business Alchemy: Turning Ideas into Gold
By William Cobb & M.L. Johnson
Hardcover, $32.95
Paperback, $24.95
E-book, $9.95
ISBN: 978-1-4685-8786-9
About the authors:
William Cobb is a successful business executive and entrepreneur. Throughout his career, he has worked on various corporate assignments and entrepreneurial ventures. Currently he volunteers as a mentor and business coach for the Northern Colorado entrepreneurial community. Business Alchemy is his second book, as he also authored Targeted Tactics: Transforming Strategy into Measurable Results.
M. L. Johnson is nationally recognized educator, writer and media producer, having published peer reviewed and commercial projects and created award winning video programs. He is a civic leader with over 30 years of experience in the private, non-profit and public sectors. His professional experiences include secondary school and university teaching, quantitative and qualitative research, project promotion and public policy analysis.