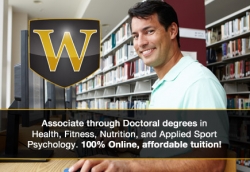 Rancho Santa Margarita, CA, October 23, 2012 --(
PR.com
)-- Cementing its dedication to health, fitness and nutrition education, Wexford University recently named Tracy Daly professor and department chair for its Nutrition and Exercise program. A 100 percent online university, Wexford University offers a variety of associates through doctoral degrees in health, fitness, exercise and nutrition.
With a master's degree in Nutrition Education from Chicago Medical School and a bachelor's degree in Dietetics from Madonna University in Michigan, Daly has been a registered dietitian since 1999. She has also served as the sports dietitian for the San Diego State University (SDSU) Aztecs and high-risk dietitian for SDSU students for nearly a decade.
"Tracy truly believes in the power of nutrition in health and disease prevention as well as the ability to improve quality of life through eating fun and healthy foods and physical activity, an ideal match for the philosophy of Wexford's online health, wellness and nutrition programs," said Jack Bauerle, Chancellor of Wexford University. "As our online university continues to offer more diverse courses and programs for students interested in nutrition and exercise, we are thrilled to add her expertise and passion to our staff."
Daly also serves as adjunct professor at San Diego State University, Cal State San Marcos, San Diego Community College District and Trident University, and has provided guest lectures to the University of San Diego and the University of California, San Diego. Further, she has been involved in nutrition research at the University of California, San Diego and previously served as consultant sports dietitian for the University of San Diego Toreros. Daly is a member of the American Dietetic Association, the California Dietetic Association, San Diego Area Dietetic Association, Sports, Cardiovascular, and Wellness Nutrition Dietetic Practice Group, and the Collegiate and Professional Sports Dietitians Association.
Wexford University offers the following online degree programs for both U.S. and international students:
Associate of arts degree in Fitness Training
Bachelor of science degree in Health and Fitness
Master of science degree in Nutrition and Exercise
Master of arts degree in Applied Sports Psychology
Doctor of Applied Sports Psychology
About Wexford University
Wexford University is dedicated to providing world-class education through cutting-edge technology, offering direct application degree programs in an accelerated format with 100 percent online learning to save time and money. Programs include an associate of arts degree in Fitness Training, bachelor's degree in Health and Fitness, master's degree in Nutrition and Exercise as well as master's degree and doctorate degree in Applied Sport Psychology. Wexford University is the higher education division of NESTA (National Exercise & Sports Trainers Association). For more information, please visit
http://wexford.edu/
.