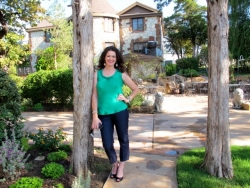 Oklahoma City, OK, September 17, 2012 --(
PR.com
)-- Buzz Books USA, an Oklahoma City-based publisher, is hosting a novel prep academy, Castle & Quill, for aspiring writers on Sunday, October 28th from 1 p.m. to 4 p.m. at Castle Falls in Oklahoma City.
Castle & Quill, which got its name after Buzz Publisher Malena Lott discovered Castle Falls and fell in love with the storybook location and theme, begins with a three-hour workshop focused on getting the major structure of a novel down. The workshop sections include the 5Ps (People, Place, Plot, (Story) Promise and Progress). Writers will work through a custom workbook created by Buzz, which will assist the students with planning and brainstorming for their novel with exercises and tools such as character boards, plot cards and mind maps.
Workshop presenters include Oklahoma young adult author Tara Hudson (Arise, Herafter), women's fiction author Malena Lott (Something New, Fixer Upper), debut crime novelist Lucie Smoker (Distortion) and Buzz Books Senior Editor Mari Farthing. The workshop workbook also includes advice from twenty novelists, gathered specifically for the workshop, including Oklahoma City novelist Lou Berney, Gutshot Straight and Whiplash River.
In addition, writers will be asked to write a contract with themselves to commit to either a word count or daily timed goal. "We supply the contract, they have to fill in the dates and sign it," Lott said. For those who wish for more inspiration and motivation, Buzz is setting up a private Facebook group for the participants to stay connected throughout the month of November and get recognition for hitting word count levels. Buzz will provide professional guidance and support to the writers. Castle & Quill wouldn't be complete without a jester, courtesy of funny mama Heather Davis, who has been contracted to write a series of humorous essay books under the TMI Mom brand. Her first book, TMI Mom: Oversharing My Life will be released in April.
The day's events will close with a book signing with Hudson, Lott, Smoker, and Heather Dearly, Prom Dates to Die For and Something Wicked; Mari Hestekin, Something Wicked; Dani Stone, Sleigh Ride, and Malena Lott, Fixer Upper, The Stork Reality and Something New (Something New, Lott's fourth novel, set in Oklahoma City, will be published in November.).
Buzz is opening the workshop to students, middle school and up, at a reduced registration rate. "Buzz Books is all about celebrating stories, and that begins with encouraging writers of all ages and supplying them with the craft and guidance to get there," said Lott.
For registration information, go to www.buzzbooksusa.com/events. Early bird rates are good through October 1st.
About Buzz Books USA
Buzz Books USA is an indie multimedia imprint based in Oklahoma, focused on publishing and promoting entertaining and impactful stories of fiction and non-fiction with readers in print, eBook and audiobook formats. For more information, visit www.buzzbooksusa.com. Socially-driven, Buzz Books can be found on Facebook, Twitter, LinkedIn, Pinterest and has a podcast "The Hive with Buzz Books" on iTunes.
Prior to Buzz Books, Lott owned an advertising agency and has published several novels. In 2006, she launched Athena Institute, a marketing and creative consulting firm, of which Buzz Books is an imprint.
Photo Cutline: Author and Buzz Books Executive Editor Malena Lott at Castle Falls in Oklahoma City