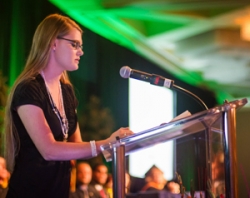 Irvine, CA, September 18, 2012 --(
PR.com
)-- Stanbridge College, a technical college that offers Master, Bachelor and Associate of Science degrees and diploma programs in Allied Health and Information Technology, held its 2012 Commencement Exercise in July featuring Dawn Loggins, 18 year old high school graduate from North Carolina as a guest speaker. At the event, Ms. Loggins helped mark the achievement of over 120 vocational nursing graduates. She spoke of how she graduated high school and achieved acceptance to Harvard University all the while dealing with a disruptive family life and homelessness. In her speech, Ms. Loggins encouraged the graduates to lead by example and use their knowledge to better their communities, a value upheld by the Stanbridge College REACH – Beyond the Classroom™ Service Learning and Civic Engagement initiative.
"Every one of you has succeeded," stated Ms. Loggins at the graduation ceremony. "Not because of the diploma you're about to receive, but because you made the decision for yourself that you weren't going to give up when faced with difficulty. The only question that remains now is perhaps the most important question of your lives. 'What next?' No matter what direction you steer your life in, I implore you to keep this motivation with you."
Growing up, Ms. Loggins dealt with homelessness from a very young age. Most of her family's income went to bailing her drug-dealing stepfather out of jail. Without money for rent and utilities, the family would live for months without power and water as squatters. After switching schools nine times, Ms. Loggins started a job as custodian at her high school. But in her junior year, she was abandoned by her parents and was left to live on her own.
In the midst of adversity, Ms. Loggins chose to lead a positive lifestyle. She worked hard at school, work and also initiated community service projects in her spare time. Her community and teachers provided her with shelter and donations which allowed her to continue her education at Burns High School.
"It was an accomplishment merely to graduate," stated Ms. Loggins in her speech at the graduation ceremony. "I've even started my own nonprofit fund to help other students in poor situations succeed, which has already raised over $35,000 to give others the opportunities I have been given. Like I am asking you all to do, I was able to look at the drug abuse, neglect, and overall bad choices and learn from others mistakes. I am heading to Harvard University this fall."
Stanbridge College REACH – Beyond the Classroom™ encourages its students to volunteer and donate at different events benefiting local and global charities and people in need. One of the main focuses of Stanbridge College REACH is helping support those who are homeless. Every month, Stanbridge staff and students donate food, supplies and time to serving a warm meal to over 250 homeless and low-income families in Costa Mesa. Currently, Stanbridge College partners with Second Harvest Food Bank OC, Mariners Outreach, Veterans First Orange County, and Project Hope Alliance to support homeless families, veterans and children with meals and other donations.
To contribute to Ms. Loggins' non-profit fund to help other homeless children, please send any contributions to: Burns High School/Dawn Loggins Fund, 307 East Stagecoach Trail, Lawndale, NC 28090
To learn more about Stanbridge College REACH, please visit
www.stanbridge.edu/reach
.
About Stanbridge College
Based in Irvine, CA, Stanbridge College is a co-educational, technical college with an annual enrollment of over 850 students. Founded in 1996, Stanbridge is nationally accredited by the Accrediting Commission of Career Schools and Colleges (ACCSC). Stanbridge College offers Master, Bachelor and Associate of Science degrees and diploma programs in Allied Health and Information Technology.
In 2009, 2010 and 2011, Stanbridge College received an award from Institutional Research & Evaluation, Inc., as one of America's Best Technical Colleges. Stanbridge has also been named to the 2009, 2010 and 2011 President's Higher Education Community Service Honor Roll, the highest federal recognition a college or university can receive for its commitment to volunteering, service-learning and civic engagement. In 2008-2009 Stanbridge College was the recipient of the School of Excellence Award from the Accrediting Commission of Career Schools and Colleges (ACCSC), and since 2007 it has maintained one of the highest continuous pass rates in California on the NCLEX-PN nursing exam, with a 96% five year average pass rate. For more information, please visit www.stanbridge.edu or call (949) 794-9090.