Pennsylvania-Based Remodeling Company, Pocono Luxury, Has Earned Back-to-Back Talk of the Town Awards for Providing Its Customers with Excellent Customer Service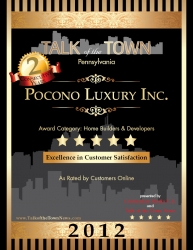 Lehigh Valley, PA, September 21, 2012 --(
PR.com
)-- Pennsylvania-based home improvement and remodeling company, Pocono Luxury, has earned back-to-back Talk of the Town Awards for providing its customers with excellent customer service.
Achieving the highest customer satisfaction rating of five stars for two straight years, Pocono Luxury Inc. has again won the prestigious CMUS Talk of the Town Customer Satisfaction Award in the Home Improvement & Remodeling category.
The Talk of the Town Awards, presented by Talk of the Town News, Customer Care News magazine and Celebration Media U.S. (CMUS), honors companies and professionals that provide excellent customer service as reported by their customers through no-cost, user-review websites, blogs, social networks, business rating services, and other honors and accolades. This data is analyzed by a team of researchers who calculate a company's CMUS Power Rating™. Only those that receive a 4-star to 5-star rating receive the CMUS Talk of the Town Customer Satisfaction Award.
Originally started in 2004 as a home builder/developer, Pocono Luxury Inc. now has a home improvement/remodeling division serving the Lehigh Valley, Poconos and Wilkes/Scranton areas. Pocono Luxury specializes in remodeling projects such as kitchens, bathrooms, basement finishing and additions. Additional services include basement waterproofing, decks and deck enclosures, and custom tile and hardwood installation.
In business for nearly a decade, Pocono Luxury has secured a list of satisfied and happy clients, as demonstrated by its consecutive Talk of the Town Awards for customer satisfaction. "I would say almost one-third of our business comes from referrals and repeat business, so I like to believe that people are happy with us and our work," says Dimitry Metelkin, President of Pocono Luxury. "We certainly make a point to ensure that all our customers get quality and value."
Pocono Luxury stands behind its work no matter what, offering a three-year warranty separate from any manufacturers' warranties. "It's all about building and keeping a good name," says Metelkin. "We go above and beyond to make sure the customer is always happy with the end result. In the construction industry, problems are common place; unlike other companies, we deal with the problems and make things right by the homeowners."
The remodeling industry often gets a bad name, according to Metelkin. "We strive to change that through honesty and performance," he says. "Our countless positive reviews and testimonials are proof of that."
Metelkin credits the entire Pocono Luxury team for the company's success. "All members of our team treat every project with the utmost respect and attention to detail," he says. "We realize that we are far from perfect, but no project is considered finished until the customer is completely satisfied."
Pocono Luxury Inc. is located in Henryville, Pa. For more information about the company and its services, call 570-872-6225 or go online to
http://www.poconolux.com
.
About the Award and Sponsors:
This is the fourth year CMUS, Talk of the Town News and Customer Care News have honored companies for achieving high levels of customer satisfaction with the Talk of the Town Awards. Businesses eligible to receive the award include, but are not limited to, beauty salons, spas, restaurants, bakeries, dentists, auto repair facilities, veterinarians, home repair and improvement contractors, florists, hospitals, and physicians.
For more information about the award or its sponsors, please contact CMUS and Talk of the Town News at 877-498-6405 or go online to http://www.talkofthetownnews.com.
Jamie Rawcliffe
Talk of the Town News
877-498-6405
Email Information
Contact
Pocono Luxury Inc
Dimitry Metelkin
570 872 6225
www.pahome-improvement.com

Contact