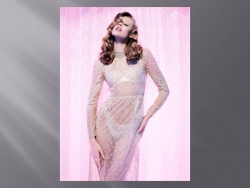 Silver Spring, MD, September 22, 2012 --(
PR.com
)-- Empower the world, let the world capture fashion power trends by prioritizing model-related products and beauty services. The Fashion World Media brings to light a platform for capturing power trends, a support system for positive expressions and public declaration of fashion styles, brands, and trends through a centralized communication hub to strengthen brand awareness, generational awareness, corporate awareness, and community awareness through a social networking environment. The social networking environment comprises of fashion media, model media, and dress code media, to be presented by individuals, designers, professional models, photographers, make up artists, beauticians, hair stylists, fashion employees, fashion outlets, businesses, corporations, and other groups for public observation. The Fashion World Media is launched to express love, providing the cosmic powers of social media through fashion expressions and trend predictions to empower the world and impact awareness and community cultural interest.
Fashion is love, and the platform is configured for individuals, corporations and these groups to provide the substance of things hoped for and to reveal the evidence of things not commonly seen by bringing fashion cultural change to their community to impact the world with love and expressing the hope for sustainable cultural independence to better corporate and community vision. The Fashion World Media is a support system for media fashion expression, sharing knowledge relating to fashion, model, and dress code. The platform is an effective support system for empowering brand success, for bringing business awareness, and for sharing community social measurements to impact generational awareness and improve community cultural and economic values. Users of the network are encouraged to embrace creative minds as a path to fashion media, model media, or dress code media, providing their creativity in fashion model to impact community cultural growth, not as a means of inquiry, but rather as a dimension for social sustainability to gracefully improve corporate and community cultural interest through economic vision.
The Fashion World Media is providing this platform for the fashion social media community as a sustainable centralized fashion tool to reach worldwide audience to accelerate online brand passion, increase fashion passion, increase the level of online brand postings, and improve customer loyalty. The platform is a network environment that allows individuals and companies in the fashion industries to capture large audience through the presentation of fashion brands, fashion trends, fashion expression, fashion styles and brand awareness through the abstraction of reality to envision future fashion models. Let your positive public declarations bring out social measurements that may lead to generational awareness, brand awareness, leadership awareness, business awareness, corporate awareness, educational awareness, professional awareness, ethical awareness, religious awareness, institutional awareness, social awareness, cultural awareness, sociological awareness, casual awareness, and service efficiency to the society. Fashion is love, an art, and expression. Fashion isn't defined solely by clothing choices, but it is also conveyed through the way we carry ourselves, our personalities and our views of the world. Fashion comprises of a prevailing styles, customs, dresses, or behaviors, and these may be fashioned and shared to change the way knowledge is derived about an objects.
Fashion your love! What do you love? Do you love style, brands, fashion trends, beauty, community culture, fashionable products, product models, product dress codes, travel, your family, your children, your wife, your husband, your previous school, your environment, your pets', education, praising God, Worshiping God, sports, entertainments, shows, arts, a particular play, a particular environment or a particular famous person? This platform is for you and you can help make an impact to community culture.