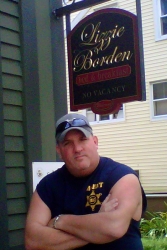 Fall River, MA, September 25, 2012 --(
PR.com
)-- Peabody, Massachusetts resident & Licensed Private Investigator, Michael A. Coller ventured into 'the world of the paranormal' on September 8, 2012 -- the eve of his 45th birthday.
The Lizzie Borden House, better known for the rhyme "Lizzie Borden took an axe and gave her mother forty whacks. When she saw what she had done, she gave her father forty-one." Located at 92 Second St. in Fall River, MA, it has been rated the number one most haunted place in the United States by the Travel Channel according to TripAdvisor.com.
Armed with state-of-the-art, extrasensory 'Ghost Hunting' equipment, this daring investigator secured a reservation in the John Morse room where Lizzie Borden's stepmother, Abby Borden, was mortally wounded with multiple strikes from a hand axe.
Prior to checking in for the evening at this well preserved Bed and Breakfast, Michael traveled to the Oak Grove Cemetery which is the grave site of the Borden family, with an investigative assistant. "The setting was a bit unnerving, dusk, a brisk chill, the onset of the foliage season and not another soul in sight," stated Mr. Coller.
Although Michael and his team did not detect any solid paranormal activity, he clearly feels that "The Lizzie Borden House is certainly not a place for uneasy or frightened individuals." After settling in at the Bed and Breakfast then inspecting the Morse Room, Michael remained alert and on guard. "The night remained uneventful and the 9:00 PM – 12:00 AM tour attended by several other guests was entertaining and filled with macabre stories and local lure." After the tour was completed, the overnight visitors were allowed to roam throughout the house.
In closing, the investigator stated that even though Lizzie was acquitted of the heinous acts committed in 1892, careful review of the evidence and having knowledge of the investigative techniques during that era, his team believes that the probability Lizzie committed the murders is extremely high.
Asked if he felt the Lizzie Borden House was haunted, he responded "I would never challenge anyone one if they said it was haunted. A place that has had such horrific acts committed inside surely has negative energy." When faced with the question of how he rested that evening, Mr. Coller answered "It was the best night of sleep I had in months!" For more about Private Investigator Michael A. Coller visit
www.michaelcoller.com
.