A New Self-Guided Motorcycling and Surfing Adventure in Ecuador
Ecuador Freedom Bike Rental Offers the "Surf & Turf Dual-Sport Motorcycle Tour."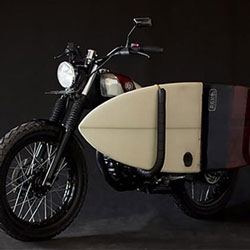 Quito, Ecuador, October 02, 2012 --(
PR.com
)-- Just imagine leaving the high altitude, 16th century UNESCO World Heritage city of Quito, surrounded by active volcanoes on a fully equipped, dual-sport motorcycle and riding down the western slopes of the Andes, crossing through the rainforest and arriving at the Pacific Ocean for a glorious day of surfing. How cool can a 3-day getaway be?
"We just put together another fantastic GPS self-guided motorcycle tour in the world's most bio-diverse country. It combines the excitement of riding some of the world's best motorcycle roads with riding the best waves on the Pacific Coast of Ecuador. Learn to surf, go paragliding, sea kayaking, or simply soak up the sun on a gorgeous beach that hasn't been commercialized by corporate entities. This is only half the fun of this new motorcycle adventure." explains Sylvain Gallea, co-owner and guide for the company.
The Quito-based motorcycle tour operator has partnered with Betty Surf Camp, a surfing and yoga instruction center run by American expatriate Patricia White in the small coastal town of Canoa - home to local fishermen, transient surfers, and expatriates who have discovered paradise in Ecuador. Canoa is a top surfing destination in South America, with no rocks, no reef, no riptide and an abandoned, uncrowded beach break.
High quality, recently paved roads lead from Ecuador Freedom Bike Rental's office in the capital city of Quito at an elevation of 9,000 feet. Riding across the equator and past the Pululahua Crater Geobotanical Reserve, riders will weave down through cloud forest on roads filled with spectacular curves and breathtaking vistas. There are many tempting places to stop, but a short hike to the spectacular Cascada Verde to enjoy a quick swim in a blue lagoon with green waterfalls is a must. The first day's ride continues down an undeveloped stretch of the Pacific Coast,and ends at an ocean-side cabana in Canoa.
The"Surf and Turf" tour
is a full adventure package that includes a dual-sport motorcycle, saddlebags, a pre-programmed GPS, helmets and riding equipment plus beach side accommodations, surf boards, and surf lessons to get those who have never surfed before up and riding the waves in no time. More experienced surfers are provided a long board, rash guards, local information and a surf guide to keep them riding the "sweet spots" all day long. The tour includes two nights in a private beach side cabin and a morning yoga lesson to start the day in good form.
The ride back to Quito offers all-paved highways or a second option that climbs the Andes on unimproved dirt roads. There are no worries: you have all the gear required and a GPS unit to guide you. There's very little crime and in fact, Ecuador is safer than many places in the United States. The weather is eternal spring, modified only by elevation; the currency is the U.S. dollar; the country is modern without being overdeveloped; and the beauty of this ecologically diverse region is astounding. The only problem is that 3-days is not enough, but don't worry Ecuador Freedom Bike Rental has plenty of other motorcycle excursions to offer. Good thing: you might not want to return home until spring.
Contact
Ecuador Freedom Bike Rental
Court Rand
1-603-617-2499
http://FreedomBikeRental.com
In Ecuador +593 (02) 250-4339

Contact