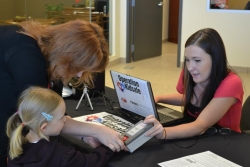 Springfield, IL, October 05, 2012 --(
PR.com
)-- Mark J. Bott, the Founder of Operation Kidsafe is a Springfield resident. Most people know Mark from his years of commercials in the Auto Industry. Mark started his volunteer efforts 16 years ago volunteering and hosting over 100 child safety Town Meetings. Mark has worked for and with John Walsh the host of America's Most Wanted and helped launch the Amber Alert. Mark was also mentioned in GQ magazine for being part of a march across America for children and helped write and push through to law the most aggressive sex offender punishment legislation.
Mark has 7 children and when he stared becoming a child advocate, he quickly found that most parents don't have a family safety plan.
To help protect children and educate parents, Mark started Operation Kidsafe 11 years ago. Operation Kidsafe is celebrating over one million children protected free of charge in the United States and Canada.
Mark will be doing a media tour on Thursday, Oct. 18th, 2012 for the Springfield celebration event.
There is no data-basing. The parent is handed the finished product, a letter size document - with the child's digital fingerprints and photo. The quality is so good that the prints can be scanned into the National Crime Computer if the child is ever missing.
Operation Kidsafe's goal is to give parents safety tips that will help them start a family safety action plan.
The local event in Springfield will be Saturday, Oct. 20th, 2012 at 3 of the Green Family Stores locations. All locations will be from 10am-4pm
Green Hyundai
1200 S. Dirksen Parkway
Springfield, IL
217-525-1370
Green Toyota
3901 W. Wabash Avenue.
Springfield, IL 62707
217-698-3100
Green Mazda
3760 S. Sixth St.
Springfield, IL 62703
217-391-2400
All locations will have a digital fingerprinting unit set up and service will be free from 10am-4pm.