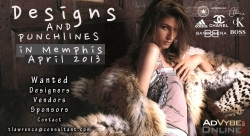 Memphis, TN, October 06, 2012 --(
PR.com
)-- Designs & Punchlines: Celebrity Fashion & Comedy Show has experts in the industry of fashion and comedy raving over its uniqueness and creativity.
Mrs. Niki Brown and Mr. Eugene Broyls discovered a need in their community. As front-runners, they understand the importance of supporting others and have committed to pledge a portion of all proceeds to Dress for Success Memphis, a remarkable program changing lives.
Dress for Success Memphis works with clients referred to the organization from nearly 80 agencies that provide various job trainings and job readiness programs throughout the community. Clients are referred after completing job training or an educational program and are ready to begin seeking and interviewing for employment. Each Dress for Success client receives one suit when she has a job interview and an additional weeks' worth of apparel once she becomes employed.
NuAge Marketing Firm, Inc. Niki Brown is an entrepreneur and executive producer of "Designs and Punchlines: Celebrity Fashion and Comedy Show." She is currently the CEO of NuAge Marketing Firm and President of Worldwide Logistics providing marketing that caters to novice and seasoned business owners as well as commercial vehicle registration services. For a decade, Mrs. Niki Brown's innovation has produced a plethora of successful networking events, trade-shows, and expos such as NuAge Networking, Reconstructing Your Community, The Christian Business Expo, and The Memphis Annual Trucking Expo.
Comedian Eugene "Spank E" Broyls, Spank E. is the co-producer of "Designs and Punchlines: Celebrity Fashion and Comedy Show." As a comedian, writer, actor, on-air personality, and model, he gives new meaning to 'Clean Comedy' by using his charm, wits, a unique delivery style, and an explosion of energy to firmly establish a solid reputation as one of the best "audience warm-up" comedians to entertain audiences nationwide! That's why the Memphis "Commercial Appeal" newspaper named him the 'Funniest Man in Memphis.'
He is a BET Comic View Comedian, he has played a lead actor (Cain) in the cable television series "Driven," played a lead role in the FOX Reality Television Show, "The Sound Off," as well as appearing in a National M.A.D.D. Commercial and on the "Truth Showcase" on the ION Network. Spank E. has toured with Gospel legends Vickie Winans, Joe Pace, Lee Williams, and the Spiritual Q.C.'s, and was the official opening act for Minister Marvin Sapp's "Never Would Have Made It" World Tour.
Designs & Punchlines: Celebrity Fashion & Comedy Show Featuring:
Vanessa Fraction has been featured on Mike Epps Live at Club Nokia, Martin Lawrence's 1st Amendment, Russell Simmons' Def Comedy Jam, The Mo'Nique Show, and a host of other national showcases. Currently Vanessa serves as Comedy Writer for BET's hit show 106 & Park and most recently filmed a standup set for Nick Jr's new show, "Nick Mom Night Out."
Tony Luewellyn a/k/a Tony Tone is a veteran comedian/actor who, for the last 17 years, has set the mood for continuous entertainment with his mastery of impressions and real life humor. Tony Tone has appeared on HBO's "Def Comedy Jam," BET's "Comic View," "Byron Allen's Comics Unleashed," NBC's "Later," "Jimmy Kimmel Live," and more. He has also shared the stage with other respected comedians including Bill Bellamy, Dave Chappelle, Eddie Griffin, Chris Tucker, Chris Rock, Adele Givens, Steve Harvey, John Witherspoon, Tommy Davidson, Bernie Mac, and Cedric the Entertainer just to name a few. For the last three years Tony Tone served as Ringmaster for the historic UniverSoul Circus, also known as "Hip-Hop Under the Big Top," allowing him to showcase his comedic talents to an entirely new audience.
J.LyDale, Fashion Host has an enormously successful modeling career, unprecedented for a black male model of his stature and build; it made him one of the most recognizable and in-demand models and trainers of this era. His success as a model has provided him with an abundance of opportunities for modeling and hair show competitions, various hosting opportunities, television commercials, and reality shows such as Split Ends and Sundays Best. J.LyDale is a prominent figure in the modeling industry in Memphis, Tennessee. When anyone mentions J.LyDale they think of elegance, class, sophistication, and a man with a style of his own. In 2004 J.Lydale had a revelation; he formed an elite group of specially elected individuals known as "J.LyDale House of Couture." His vision was a tight-knit group with diverse looks and flairs that could offer something incredible and distinctive, mixed with high fashion.
Cameo Lawrence, Red Carpet Host Cameo Lawrence has been in various movies such as Hawaii 5-0, Off the Map, Rocky V, and Touched by an Angel. She's also a comedienne who's performed at Pipeline, Snappers, Kings Pub, Dragon Upstairs, indigos, and Green House in the beautiful state of Hawaii. Cameo has 25 years of military service and currently teaches resiliency to the soldiers coming back from deployment.
Casting Call for Designers and Models is scheduled for October 13, 2012. As a result the list of designers and models will not be released until November 20th 2012 to assure we allow all parties time and consideration.