EasyGarageFloor.com Offers a Way to Easily and Affordably Transform a Garage Into a Place Showcasing Cars
Garages are the forgotten rooms in houses and seldom a pleasure to be in. This ought not be the case. Garages should be places to showcase cars and motorcycles. EasyGarageFloor.com offers an easy solution and free shipping on most products shipped directly to customer's doors.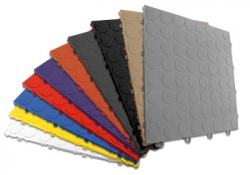 Coppell, TX, October 10, 2012 --(
PR.com
)-- EasyGarageFloor.com is pleased to announce the grand opening of it's web store.
EasyGarageFloor.com offers an easy solution to remedy ugly or blemished garage floors. It involves no prep work except maybe sweeping the floor if necessary. You design your new floor on
EasyGarageFloor.com/page/step1
. The product consist of commercial grade copolymer 12 x 12 inch tiles that easily snap together to form a solid floating floor on top of the slab. The customer will have 10 colors in 6 different tile designs available. Both tile design and colors are selected on the website and orders are processed within 24 hours. The installation process is so easy that children can do it. The snap together system enables customers the freedom to design a one of a kind floor that both fits their budget and garage.
It is easy with the many color choices available to create a clean and professional looking garage floor in just 1 to 2 hours. Since the floor is floating on the slab, it will never show the cracks that always develop over time in the slab, as a painted on floor treatment will. EasyGarageFloor.com's products have a 15 year warranty and should a tile need replacement, it is removed without dismantling the entire floor since individual tiles easily can be removed using a common spatula found in most kitchens.
There is no longer an excuse to put off creating a garage you will be proud of for years to come.
Contact
EasyGarageFloor.com
Steen Friis
972-304-5701
http://www.EasyGarageFloor.com

Contact
Multimedia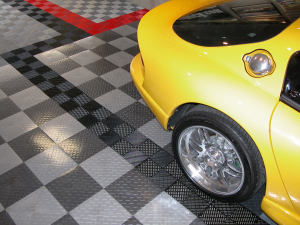 Super tough high gloss modular garage flooring system that will add elegance to all garage designs. TuffShield provides a polished and professional look.