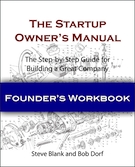 Seattle, WA, October 24, 2012 --(
PR.com
)-- Today Zoomstra, in partnership with authors Steve Blank and Bob Dorf, announces the availability of The Startup Owner's Manual - Founder's Workbook online subscription, an interactive tool that guides founders through each of the hundreds of steps in the four-step Customer Development process, so they can track and monitor their progress.
The Founder's Workbook ($9.95 at
www.zoomstra.com/foundersworkbook
) is a companion guide to the print and ebook editions of The Startup Owner's Manual -- the encyclopedic how-to bible that entrepreneurs of all stripes are using to build a successful company.
"We're pleased to welcome the Founder's Workbook and the Zoomstra platform as a handy tool to help entrepreneurs monitor their progress through the customer development process. We believe it's a powerful tool and an excellent value," says Steve Blank, the Silicon Valley startup expert and educator who developed the Customer Development methodology that launched the lean startup movement.
The Internet guide highlights on the checklists contained in The Startup Owner's Manual, helping founders:
-organize the work needed to search for a successful, scalable business model
-walk through each key facet of the Customer Development process
visualize their progress
-compare notes with the other members of their team
-determine whether they need to pivot or if they can proceed to the next step
"We are excited to release the Startup Owner's Manual Founder's Workbook for entrepreneurs everywhere" says Aaron Kassover, co-founder of Zoomstra. "Working with Steve Blank and Bob Dorf has helped us improve Zoomstra for authors and to make companion guides even easier to assemble and distribute."
The Startup Owner's Manual Founders Workbook is now available as an annual subscription for $9.95 at www.zoomstra.com/foundersworkbook. The subscription gives the user access to the online guide for a full year through the Zoomstra Cloud Reader.
About Steve Blank
Steve Blank is a driving force in innovation, helping to radically reshape how startups are built and how entrepreneurship is taught. His first book, The Four Steps to the Epiphany, details the Customer Development process he created and which spawned the Lean Startup movement. His new Startup Owner's Manual is his latest addition for entrepreneurial practitioners. Steve teaches entrepreneurship at Stanford University, U.C. Berkeley, Columbia, and the National Science Foundation, among others, and blogs at www.steveblank.com
About Bob Dorf
Bob Dorf is a serial entrepreneur, founding his first success at age 22. Dorf is often called the "midwife of Customer Development," having critiqued early drafts of The Four Steps to the Epiphany; he and Steve have been friends and colleagues ever since. When he's not running K&S Ranch Consulting with Steve, Dorf teaches "Introduction to Venturing," on Customer Development and getting startups right, as an Adjunct Professor at Columbia Business School.
About Zoomstra.com
Zoomstra.com is a unique online training & enablement platform that moves learning from a one-time classroom event into an ongoing, repeatable process. With the Zoomstra platform, organizations and instructors quickly create, distribute, and monitor interactive workbooks to guide their audience, employees, and partners.