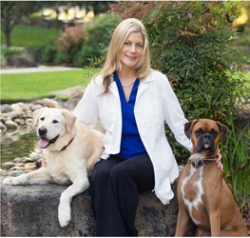 San Ramon, CA, October 25, 2012 --(
PR.com
)-- Today Bishop Ranch Veterinary Center & Urgent Care is proud to announce the hiring of Megan Armor, DVM. Dr. Armor joins the established hospital after practicing at Groveway Veterinary Hospital in Castro Valley for the last 6 years. In addition to being a highly skilled veterinarian of dogs and cats, Dr. Armor has a special interest and passion for treating small mammals including ferrets, rabbits, guinea pigs, hamsters, and rats. She is currently accepting new patients.
"We are very excited to have Dr. Armor join our team of first-rate veterinarians," said Dr. Frank Utchen, co-founder of Bishop Ranch Veterinary Center & Urgent Care. "Her friendly bed-side manner and exemplary medical skills make her a perfect match for our hospital and the standard of care we provide. She has that 'special touch' with animals and a natural talent for communicating with clients regarding their pet's health."
A Bay Area native, Dr. Megan Armor is a 2006 graduate of the Veterinary School of the University of California, Davis. She previously graduated Magna Cum Laude from the University of California, San Diego with a B.S. in Biochemistry and Cell Biology. Before veterinary school, Dr. Armor devoted her spare time to working at animal shelters; both the Santa Clara Humane Society and the Helen Woodward Animal Center in San Diego. Currently she volunteers with the Tri-Valley Fix-Our-Ferals spay and neuter clinic in Dublin.
Bishop Ranch Veterinary Center & Urgent Care is one of the few human-equivalent veterinary hospitals in the Tri-Valley area. With 15 doctors on staff, the pet hospital provides primary care, emergency and urgent care, specialty and surgical services, acupuncture, and boarding for dogs, cats, and exotic pets. It is the largest such medical and surgical facility for pets in San Ramon and the greater Bay Area.
Established in 2000, Bishop Ranch Veterinary Center & Urgent Care is accredited by the American Animal Hospital Association and also works to support local animal rescue groups by donating tens of thousands of dollars in veterinary care every year. It has been the winner of Diablo Magazine's Best in the Bay Veterinary Hospital as well as the San Ramon and Danville Express Reader's Choice Award for Best Veterinary Hospital multiple years in a row. The hospital is open Monday through Friday from 7:00 am until 10pm, and weekends from 8:00 am until 8:00 pm.
For more information about Bishop Ranch Veterinary Center & Urgent Care call 925-866-8387 or go to www.webvets.com. The hospital is located at 2000 Bishop Drive, San Ramon, CA 94583.