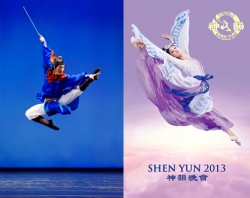 Ft. Lauderdale, FL, October 27, 2012 --(
PR.com
)-- After its run of sold-out shows in 2012, Shen Yun Performing Arts returns to the Broward Center's Au Rene Theater with an unparalleled blend of energy, grace, and originality on January 11-13, 2013. Shen Yun brings to life 5,000 years of Chinese civilization through classical Chinese dance and music in a colorful and exhilarating show. A performance by Shen Yun is a presentation of traditional Chinese culture as it once was: a study in grace, wisdom, and the virtues distilled from five millennia of the world's most ancient civilization.
Dozens of dancers in dazzling costumes, thunderous drums, and spectacular backdrops take you to another world. The energy of the dancers and orchestra is contagious; the entire performance, mesmerizing. "Fantastic!" says Joy Behar, from ABC's The View. "If you ever get a chance to see it, you should."
At the core of Shen Yun's performances is classical Chinese dance with its explosive techniques, synchronized movements, and expressive powers. China's numerous ethnic and folk dance styles round out the evening. In a collection of short pieces, audiences travel from the Himalayas to tropical lake-filled regions; from the legends of the culture's creation over 5,000 years ago to contemporary tales of courage; from the highest heavens down to the dusty plateaus of the Middle Kingdom.
Shen Yun captures the spirit of ancient China, recalling the grandeur of a culture long lost. Gorgeous backdrops extend the stage, transporting the audience to distant lands and eras. Award-winning vocalists perform soaring arias to piano accompaniment.
A one-of-a-kind orchestra, playing all-original compositions, blends East and West like no other. The distinctly Chinese sound of ancient instruments including the bamboo flute and pipa are bathed in a rich sea of Western strings, percussion, woodwinds, and brass. The result: two great classical traditions producing one fresh, unexpected sound
Broward Center (Au Rene), Fort Lauderdale, Jan 11-13, 2013, 2013. For tickets and information, call presenter hotline: 1-888-974-3968/
www.shenyunperformingarts.org