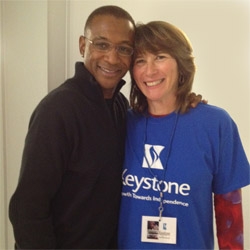 Norwalk, CT, November 11, 2012 --(
PR.com
)-- Laughter filled the Norwalk Concert Hall during the Comedy Night featuring stage and screen star Tommy Davidson and Friends to benefit Keystone House, Inc. on Saturday, November 3, 2012.
The purpose of the event was to bring awareness of Keystone and the services they provide to the community. Audience members came from all over Fairfield County and New York.
The evening included an Exclusive VIP Reception with a pre-show meet & greet and photo opp with Tommy Davidson.
Bill Durham of Entourage Events introduced the first two comedians, Mark Demayo and Damon Rozier, and then the lead comic, Tommy Davidson. Davidson is best known as one of the original stars of the hit television show "In Living Color." Part of Davidson's monologue's was a hilarious impression of President Barack Obama. The audience roared with laughter throughout the evening.
"This event was successful in so many ways for Keystone House. We were able to share the important work that Keystone House does with a whole new group of people; we raised awareness about mental illness: we raised much needed funds and everyone left smiling! We never could have had this event without the great support we received from the community and especially our loyal volunteers. It was a great way to get people together to relax and laugh while dealing with the aftermath of Hurricane Sandy." - Valerie Williams, Keystone's Executive Director.
"He (Davidson) was great! Entertaining, enlighting, fantastic!" said Bonnie Monteiro of Fairfield, CT after the event. Yaria Zoe of Bridgeport, CT added "It was a fun way to help the community."
Sponsors for the event included Media Sponsor - Power 105.1 FM; V.I.P. Sponsor - TFI Envision, Inc. of Norwalk, CT; Refreshment Sponsor - Ripka's Bulls Head Market.
Keystone House, Inc. is 501(c)(3) not for profit organization that provides residential and psychosocial services for adults with psychiatric disabilities in the greater Norwalk, Connecticut area.