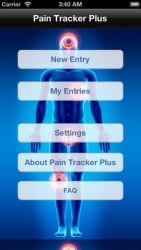 Portland, OR, November 20, 2012 --(
PR.com
)-- Frank Ille CEO of HealthSaaS states, "
Pain Tracker Plus
for the iPhone allows us to expand our solutions for pain management and further illustrates our commitment to developing innovative solutions that help improve decision making for people with chronic pain. "As a long term chronic pain patient who has undergone five low back surgeries and bilateral TMJ surgery I understand the many challenges patients have in managing their pain and communicating important information to their care team."
Pain Tracker Plus features include:
Male and female gender options
Six body views
(Front, Back, Left, Right, Top, and Bottom)
Seven pain industry standard color coded pain types
(Aching, Stabbing, Throbbing, Burning, Pins and Needles, Numbness and Hurts to Touch)
Zoom & Panning allow you to focus on exact pain locations
Summary Reports on the phone provide a detailed view of your pain history
"Store and forward" engine allows the application to run in a "standalone" mode as well as "paired" to the PainPHA portal.
In standalone mode all data is stored on the device. In paired mode, whenever network connectivity is available, the data is sent to PainPHA. If not initially paired, all previous entries will be sent to PainPHA.
PainPHA by HealthSaaS is a complimentary service which also allows you to track medical history, medications, naturopathic remedies, sleep patterns, treatments, therapies, exercise, activities, additional symptoms and quality of life concerns.
Graphical pain reports available at PainPHA include:
Pain & Intervention Report
Bodymaps Pain Report
Pain by Type Report
Pain High/Low/Average by Day Report
Pain by Time of Day Report
http://www.painpha.com/EN-US/aboutus/mobile/main.aspx