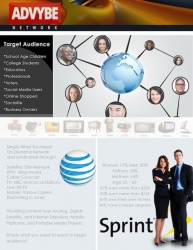 Charlotte, NC, November 30, 2012 --(
PR.com
)-- However, a new era has arrived for what Ad Vybe's production crew calls, "Smart Television," the network has worked endlessly to compile smart & safe programming:
- Documentaries
- Hollywood Family Friendly Movies
- Finance Experts
- Children Entertainment
- Professional Talk Shows
- Fashion & Red Carpet Events
- Health & Wellness
- Cooking with Celebrity Chefs
- The Chiseled Life starring NFL Star Ed Hartwell
- Sports Events
- College Life (prep our children for college life)
- Music (live concerts and videos)
- Info Commercials for Small Business Owners
- Travel Lifestyles
- Luxury Lifestyles
- Charities and Non-Profits Activism
- Educational Documentaries
- Thrills and Youth Positive Lifestyles
Here's a sneak preview of what viewers can look forward to on Ad Vybe's Network
"The Chiseled Life" starring Ed Hartwell, Former NFL Linebacker, Actor, Business Owner, Fitness Trainer, Father, and Mentor, has been identified as "That Guy" that the world expects to continue to do great things. He has gained the respect of his family, friends, and colleagues through his innovative fitness programs and entrepreneurship developments.
His successes as a football player can be tracked from "Who's Who" of high school athletes, to Western Illinois University, where he was awarded the "Buck Buchannan Award" as the greatest defensive player in his division. His expected success followed him to the NFL, where he was named as one of the leading Middle Linebackers in the NFL. His football finale was the UFL, where he led the Las Vegas Locomotives to the championship with the team becoming the 2010 UFL Champions.
Hit the Red Carpet with Click On This L.A. Host: Stephanie Danielson is a proud member of the Screen Actors Guild and AFTRA, and has recently booked Guest Star recurring roles on the new TV Shows Femme Fatales and The Sinners.
You may also recognize her from Discovery Channel's Extreme Forensics, and Biography Channel's Celebrity Ghost Stories. Stephanie has been in National Commercials for Been Verified™, MICA Beauty Cosmetics, and ROXY, and is also the LA host of the popular Lifestyle series Click On This! Stephanie can also be seen in the lead role of Jessie Beaumont in the web series Life After Lisa.
Ad Vybe Network™will be featuring programming safe for the whole family.
The network will be launching in 2013 on Dish Network Video-On-Demand
The network producers are proud to present a healthy network, that cares about its viewers.
Exciting for college students, entertaining for children, educational for parents and growth building for small businesses.
Ad Vybe is "Going green, on the scene of television." recycling its viewers thoughts and spreading contagious kindness throughout America.